All-Star Weekend
The reality is that the NBA All-Star Game has an unfair advantage over other professional leagues when it comes to staying authentic.
In hockey, the NHL does a nice job breaking plates with the Skills Competition, but a red robin of games played without hip checks is just not hockey.
Major league baseball puts on a homerun clinic. But you never care who wins, there are two dozen pitching changes, and you tend to nod off after your favorite player gets replaced after going 0 for 2.
And then there is the Pro Bowl where the top five quarterbacks had dinner reservations and couldn't attend, players only show up if there's a bonus clause, and blocking comes with a 15-yard penalty.
Since the NBA is all about big time names dunking the ball, shooting threes, and entertaining fans without playing defense…playing in the All-Star Game is a seamless transition.
• This year's NBA All-Star Game took place at the Rocket Mortgage FieldHouse, home of the Cavaliers. Cleveland is so depressing in February that Kevin Durant decided not to show…and they named the team after him!
• Other players that missed the game included James Harden and Draymond Green. With Kawhi Leonard, Paul George, Damian Lillard and Anthony Davis mostly injured. Ben Simmons absent, Klay Thompson just returning, and Kyrie Irving part-time, the All-Star Game is threatening to become the NBA's version of the Pro Bowl. Jarret Allen is a nice player, but Team Durant was about a hangnail and a positive COVID-19 test away from having Tacko Fall make the roster.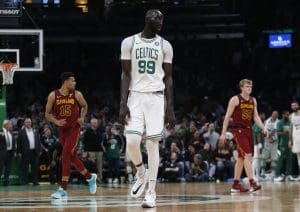 • Stephen Curry scored 50 points making 16 of 27 three from ridiculous range to seal the win, and the MVP award for Team Lebron. Not bad for a three-star recruit out of Davidson.
• The NBA made a nice effort to keep the game competitive by awarding large charity donations to the team that won each quarter. But I would like to see even more done to incentivize hard play. How about losing team absorbs John Wall's contract, rooms with Kyrie Irving, or acquires Russell Westbrook.
• Another highlight of All-Star Weekend was the gathering of the NBA's 75th Anniversary Team which included players such as Larry Bird, Magic Johnson, and Michael Jordan. According to the NBA ranking of players, the team also included current players like Chris Paul (29), James Harden (50), and Anthony Davis (71). When healthy, Anthony Davis is a great player, but he's played less games in his career (601) than Boogie Cousins (631). And Cousins hasn't made a full-time roster since 2015-16.
• As a sidenote, Juwan Howard played in 1,208 games.

• After Juwan Howard received a five-game suspension for striking Wisconsin assistant coach Joe Krabbenhoft following a 77-63 Michigan loss, Wisconsin athletic director, Chris McIntosh, praised the Badger's coaches in their effort to try and de-escalate the situation. De-escalate? Howard is 6'10, 260 pounds. They best try to de-escalate! Besides, it wasn't really a punch. It was more of a hand check, or a fab five to the face if you will.
• Fun fact – Juwan Howard and two-time world heavyweight champion, Tyson Fury, both have a 7'1 wingspan.
• As for the Winter Olympic Games, I lost interest when curling became the main draw. How is sweeping even a sport? Pretty sure I could have qualified for the Winter Games…if I didn't own a Dust Buster.
• In other news, Medina Spirit was stripped of his 2021 Kentucky Derby win after a ruling by the Kentucky Horse Racing Association. The Bobby Baffert trained horse tested positive for a banned substance immediately following the Derby back in May of 2021, but the decision did not become official until this week. I haven't seen a decision take that long since Kamila Valieva took the ice.
• If Russia's punishment for doping athletes is a forced name change to the ROC (Russian Olympic Committee), shouldn't Bobby Baffert need to change the name of his stable?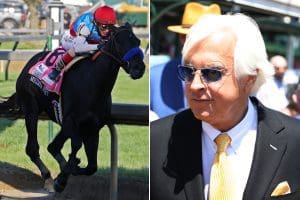 Images via cbsports.com, fieldlevelmedia.com, nypost.com, yahoo!sports.com