6 Fall Hikes Around Boulder to See Aspen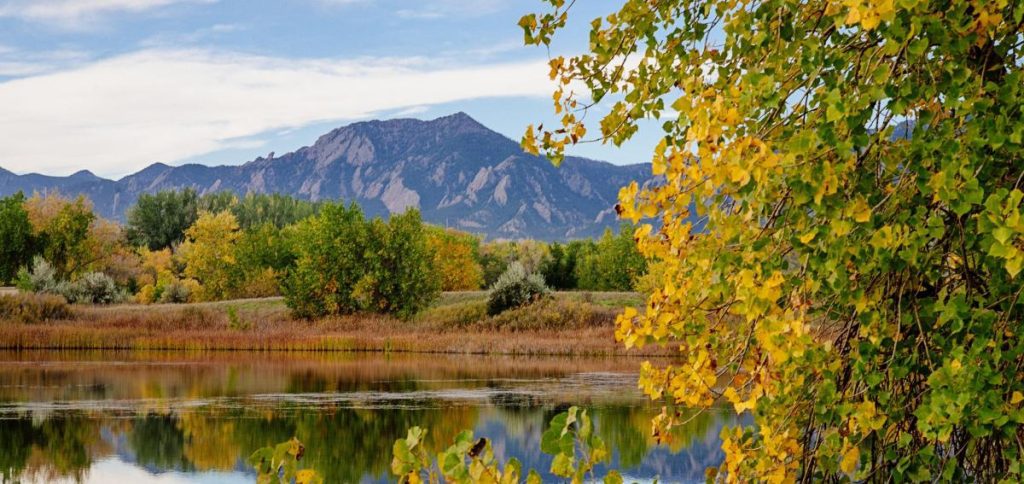 I'd expect lots of warm days in Boulder to come, but in the mountains, it is really starting to feel like fall. Once the aspen trees start to turn its a narrow window of time to see the mountains shrouded in gold.  There's several places a quick drive from Boulder to go check out the leaves. Many people simply drive around and then turn back. But not you! Use this list to do some serious leaf peeping around Boulder.
Hessie Trailhead, Eldora, CO 
This trailhead into the Indian Peaks Wilderness is super popular on weekends. It is an easy hike to wander around up to a waterfall on Boulder Creek and to wide open mountain meadow views full of aspen trees. You can also to a moderate hike up to Lost Lake to extend your hike. There are also many other ways to extend your hike. I really like this trailhead and completely recommend it! For more information and more details about hikes from Hessie, check out my previous About Boulder Blog post on Hessie Trailhead .
Fourth of July Trailhead, Eldora, CO
So if you continue right past the Hessie trailhead, about 4 miles up a dirt road, you will find Fourth of July Trailhead. My hiking map says this road is a 2WD road but I found it kind of rough in my Forester. If you have taken your car to other mountain dirt roads you're probably fine, it wasn't bad.
It is a nice ~5 mile hike out and back to Diamond Lake which brings you up and down and up again to this quiet spot. You can also use this trailhead to access Arapahoe Glacier and South Arapahoe Peak (keep weather in mind for those elevations). Naturally there are other awesome destinations at this trailhead and the dirt road up to the trailhead itself is quite beautiful.
Caribou Ranch, Nederland, CO
This Boulder County property is sprawling and will give you wide open meadow views backed with aspen groves and a rustic red barn. It is also just a mile or two west on HWY 72 (Peak to Peak Highway) from Nederland.
Reynolds Ranch Open Space/ Roosevelt National Forest, Nederland, CO
The lines between these public lands are kind of confusing, but the area is truly beautiful. Some of the largest aspen I've seen around Boulder were here. There are two trailheads located off of Magnolia Road. The Lollypop Loop is a nice ~1 mile or so loop that is at the first trailhead (coming from Nederland on Magnolia Rd). The Front Range trailhead (also off of Magnolia Rd) has mostly difficult, rarely maintained trails.
Forest Lakes or East Portal Trailhead, Rollinsville, CO
Check out the Forest Lakes with a moderate to difficult but short hike from Forest Lakes Trailhead, or approach the lakes from the east at the East Portal Trailhead. East Portal trail is longer but unfortunately is not too much easier. You will however get better views walking through aspen forest. FYI this is likely the farthest drive from Boulder.