Top 3 Things to do in Nederland
Motto: "Life Is Better Up Here"
1. Frozen Dead Guy Days
Have you ever felt like your life was missing coffin racing, costumed polar plunging, frozen t-shirt contests and the celebration of a frozen man? If so, come to one of the most surreal festivals in the world, where locals and out-of-towners alike get together to celebrate Bredo Morstol, a frozen dead guy stored in a Tuff Shed in Nederland.
2. Experience happiness with the Carousel of Happiness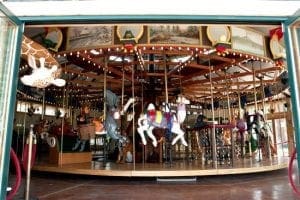 The Carousel of Happiness is a restored 1910 Looff Carousel which was restored by hand by Vietnam vet Scott Harrison. His work represents a combination of new and old with the new animals, the old foundation, and the young and old riders from Nederland. You can support the Carousel through donations, by adopting an animal, or adopting a piece of artwork to inspire the next generation.
3. Go hiking at Hessie Trailhead
Hessie Trailhead is home to a variety of trails, land, and water, including Indian Peaks Wilderness, Devils Thumb, Lost Lake, King Lake, Woodland Lake, and Diamond Lake trails. Save some money and time by parking in the Park N Ride and taking the free shuttle to the base of the trails (dogs are welcome on the shuttle too!).