And Then There Were Four
And then there were four.
Luka Doncic could have defeated the Phoenix Suns by himself, and after a first half in which Doncic scored 27 points, equaling the Suns halftime total, he almost did. Spencer Dinwiddie added 30 points on 11 of 15 shooting. Jalen Brunson chipped in 24 points, and the Dallas Mavericks made 19 of their 39 threes (48.7%) on their way to a lopsided 123-90 game seven victory.


The Boston Celtics got 27 points from Grant Williams, 23 from Jason Tatum, and 19 from Jaylen Brown as the team made 22 of their 55 threes (40%) in a game seven route of the Milwaukee Bucks, 109-81.


The Golden State Warriors advanced in six games. The Miami Heat did the same.
Somewhere in this bunch is the answer to winning a championship.
It could be about launching threes, point differential, or simply spending the most money. Or is it more than that?
A look at what these four teams have in common, and if the entire league should be listening.
• It is easy to look at the Golden State Warriors and conclude that they are in the Western Conference finals because they have Steph Curry. Dallas has Luka Doncic, Miami has Jimmy Butler, and Boston has Jason Tatum. But the "Star Player Theory" loses some validity when you see Giannis Antetokounmpo packing his bags, and MVP Nikola Jokic long gone from contention.
• Multiple stars with Max contracts make sense as the Warriors have Curry and Klay Thompson, Miami has Butler and Bam Adebayo, and Boston has Jason Tatum and Jaylen Brown. But the league is full of Chris Paul and Devin Booker-like combos that are still sitting at home.
• And while everyone loves a good threesome…The Los Angeles Lakers (Lebron James, Russell Westbrook, and Anthony Davis) and Brooklyn Nets (Kevin Durant, Kyrie Irving, and James Harden) have showed us that threesomes, while exciting in theory, can often turn out awkward and uncomfortable.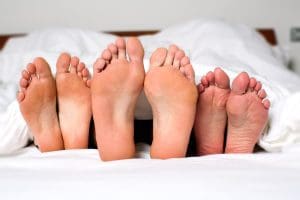 There must be more to it.
• After Grant Williams drained 7 of the Celtics 22 three-pointers last Sunday, the correlation between the three-point line and winning this year's championship had to be explored. The Miami Heat are actually the top three-point shooting team by percentage (37.9%), but the Heat haven't played their best three-point shooter, Duncan Robinson, all playoffs. The other three playoff teams are in the middle of the pack for percentage shooting.
• The irony is – Grant Williams did make 7 of 18 three-point shots (38.8%) in a critical game seven. Which would seem more impressive if we didn't know that Williams shot threes at a 41.1% clip during the regular season. Could it just be about shooting more threes?
• The Golden State Warriors attempted the third most three-pointers in the NBA this season. But if attempting threes were a variable, we would be watching the Utah Jazz versus the Minnesota Timberwolves this round.


We can look at offensive efficiency, salary cap, and free throw percentage, and find no correlation. None of the four teams had the most assists, or best home record, or best road record, or even point differential.
But what about health?
• There is no question that injuries to Ja Morant and Khris Middleton helped the Warriors and the Celtics advance. Joel Embiid missed two games with a broken finger and a broken face! Marcus Smartt is hurt, Gary Payton III is hurt, and the list goes on and on. And now rumors are flying around that both James Harden and Chris Paul were hiding hamstring injuries.
• Which begs the question. In the NBA – does pulling a hamstring create losses? Or do losses mysteriously create pulled hamstrings?
• Staying healthy is obviously a major component to winning a championship. But Luka Doncic has already missed playoff games, Steph Curry and Draymond Green have been banged up all season, Kyle Lowry can barely walk, and Robert Williams is still questionable. Heck – Steve Kerr had COVID-19 and the team is still in the race for the whole thing.
Despite a Playoffs full of threes raining down like Armageddon, the one commonality of these four finalists is defense.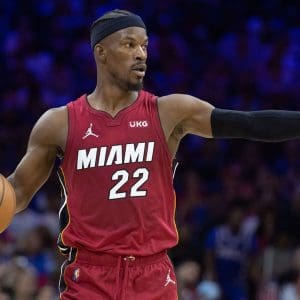 • According to Statmuse, the Golden State Warriors and Boston Celtics tied for the NBA's best defensive efficiency rating at 106.9 during the regular season. The Miami Heat ranked fifth (109.1), while the Dallas Mavericks finished sixth (109.4).
• The two teams rated third and fourth were the Phoenix Suns and the Memphis Grizzlies.
• The Denver Nuggets finished 15th.
I guess defense really does win championships.
Images via thesportsrush.com, si.com, skysports.com, Wikipedia.com, forbes.com