Groovalicious
Streetside Studios in Boulder houses all types of dance, but focuses on hip-hop classes and hip-hop fusion classes for both kids and adults. One of these fusion classes is Groovalicious, taught by Lindsay Miller. The description of the class uses the tag line: "Unleash your inner diva (guys that includes you too!)" I've gone to Groovalicious for several weeks and I find that the class is high energy, fun and beginner friendly. The movements about letting loose and doing movement that feel good on the body. There's plenty of hip shaking, booty popping and grooving.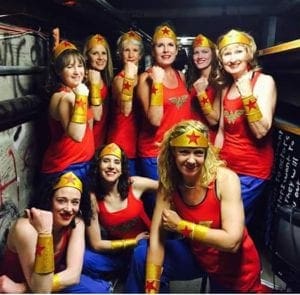 Lindsay's class offers a new movement style that fuses jazz, hip-hop and Latin dance movements to create a uniquely sensual feel. As someone who is mostly trained in modern dance, the class brought a new awareness to my body on how to bring jazz and hip-hop together with kicks and turns and pops and rocks.
Class begins with Latin based movements, such as salsa, as well as jazz and hip-hop technique that will be needed to learn combinations. Lindsay also allows us to bring our own flare to the class with improvisations built into the choreography. Before beginning the combination, she encourages us to improvise in our own movement style. She also asks us to freeze in poses for a count of eight before continuing her choreography. The inclusion of improvisation helps loosen up the body and reminds us not to take ourselves so seriously that we move, but forget to dance.
Class combos sometimes carry over from week to week, which allows us to improve upon the movements that we learned the week before. I like this aspect of the class because I know that if I have trouble with a movement, I will be able to practice and try the combination again the next week. But, if the combo does not carry over, I enjoy being able to start over with something new.
The class meets on Friday nights from 7:15 to 8:15.
Here is a video of the combination we did in class last week to give you a taste of what to expect: