Love is in the Air: Award-Winning Boulder Joint for Romance Chosen by Locals
Boulder is often regarded as a romantic destination due to its picturesque landscapes, charming atmosphere, and abundance of outdoor activities that can be enjoyed together with a loved one. The city is nestled at the foothills of the Rocky Mountains, providing breathtaking views of towering peaks and scenic trails that invite couples to embark on romantic hikes or leisurely strolls hand in hand. Moreover, Boulder is known for its vibrant arts and culture scene, offering numerous galleries, theaters, and live music venues where couples can immerse themselves in creative expressions and enjoy intimate moments. Additionally, Boulder is home to a diverse culinary scene, boasting a range of romantic restaurants that provide the perfect ambiance for a memorable date night
Flagstaff House is widely regarded as one of the most romantic places to have dinner in Boulder and for good reason. The elegant and sophisticated atmosphere of the restaurant, coupled with the breathtaking views of the city and the Rocky Mountains, make it the perfect destination for a romantic evening out.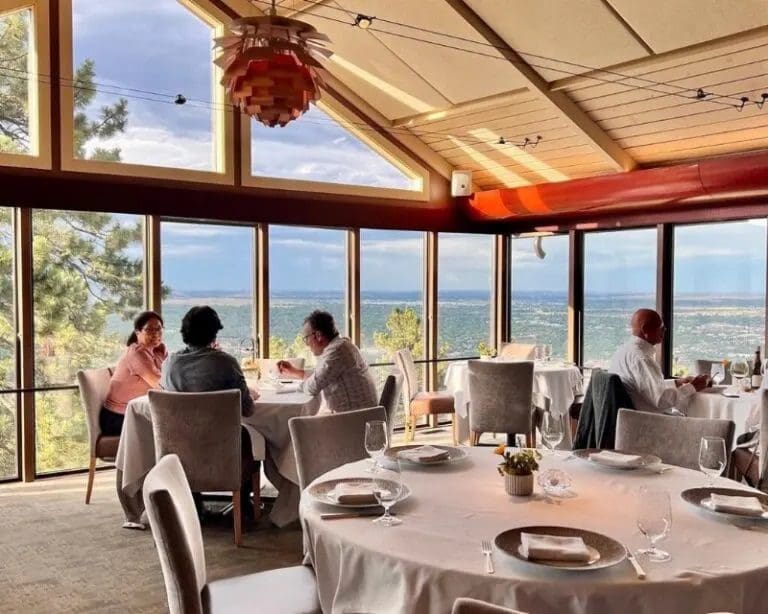 From the moment you step into the Flagstaff House, you are transported to a world of refined elegance and timeless charm. The restaurant's decor is luxurious and stylish, with soft lighting, plush furnishings, and tasteful artwork adorning the walls. The ambiance is warm and inviting, yet intimate and exclusive.
One of the most appealing aspects of the Flagstaff House is its spectacular location. Situated high on Flagstaff Mountain, the restaurant offers stunning panoramic views of the surrounding landscape. Diners can gaze out over the twinkling lights of the city below, while the majestic Rocky Mountains loom in the distance. This combination of natural beauty and urban sophistication creates a unique and unforgettable atmosphere.
photos via: Flagstaff House
In addition to the romantic setting, the Flagstaff House also offers an exceptional dining experience. The menu features an array of gourmet dishes, with a focus on locally-sourced, seasonal ingredients. The talented chefs at the restaurant use innovative techniques and creative presentations to elevate classic dishes to new heights of flavor and texture.
The wine list at the Flagstaff House is also a highlight, with an extensive selection of fine wines from around the world. The sommeliers are knowledgeable and passionate about their craft, and can help diners choose the perfect bottle to complement their meal.
Overall, the Flagstaff House Boulder is the perfect place to celebrate a special occasion, impress a date, or simply enjoy a romantic evening out. The combination of stunning views, refined ambiance, and exceptional cuisine make it one of the most memorable dining experiences.