Colorado Police Officer Goes Above and Beyond Helping Young Boy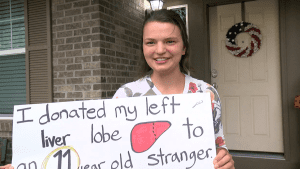 A Broomfield police officer, Carolyn Becker, went above and beyond the line of duty last year to donate a piece of her liver to a complete stranger last year, and eleven year old boy whose liver was failing. The officer did not know the young boy, but wanted to help once she discovered that she was a perfect match for him.
Earlier this year, the officer discovered that the boy's family had to pay nearly $20,000 out of pocket for the surgery that they are still struggling to pay off. Becker set up a GoFundMe to help the family, but since the fund isn't raising the money she was hoping for, Becker has been panhandling in an effort to raise the needed money.
Becker said, "No parents should have to watch their child's organs fail. No parents should be financially strained because they made the right choice for their child."
If you would like to donate to help the boy's family, you can at their GoFundMe here.