Healthy Lion Cub Born at Denver Zoo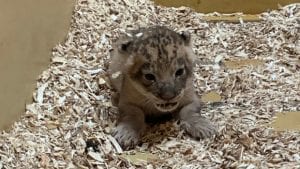 Denver Zoo announced today that 7-year-old African lion Neliah gave birth to a healthy cub a few days ago, thanks to father Tobias, who arrived at Denver Zoo in January.
The Zoo has been hoping for a new cub as part of the Lion Species Survival Plan. This plan works to ensure lion populations are healthy and genetically diverse within Association of Zoos and Aquariums institutions. Tobias was moved to Denver Zoo in January in an effort to help with this plan.
The cub, for now unnamed, will spend time with his mom in their den box, a place that zookeepers built to mimic the space Neliah would seek in the wild to nurse and comfort her cub.
The cub will make its public debut later this summer after it has met the rest of the pride. However, guests will be able to watch the cub onscreen at the Pahali Ya Simba in Benson Predator Ridge.
The zoo has released a sneak peek of the footage, which can be seen below.