Quarterback Carousel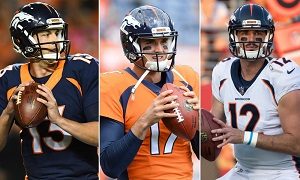 As Brock Osweiler failed to impress, Paxton Lynch failed to improve, and Trevor Siemian failed to make the game day roster, the Denver Broncos set their sights on next year to figure out their quarterback issues. Whether John Elway believes Denver is in a rebuilding stage or a few players away, finding a franchise quarterback for next year won't be easy. Here is a list of the top ten options for next season, and the odds of making it happen.
1) Paxton Lynch (Odds of starting 2:1) – Over the last ten years every first-round quarterback
selected has been allotted at least half a season before being labeled a bust. Including Josh
Freeman (61 games as a starter), JaMarcus Russell (25 games), Tim Tebow (14 games), and
Johnny Manziel (8 games). Lynch has only started twice, implying he has at least six more games
before it's official.
2) Tyrod Taylor (4:1) – Sunday's promotion of Buffalo's backup Nathan Peterman means that
Taylor will be available, affordable, and provides the veteran leadership that Elway was
interested in signing a few years back. And with the way our line has failed to protect, his
mobility is important too.
3) Alex Smith (10:1) – Smith is 33-years- old and has an out after the 2018 season. With first-
rounder Pat Mahomes III warming up on the bench, the Chiefs need to move Smith soon to get
max value. Trading to a rival in your own conference is rare, but business is business.
4) Sam Darnold, Josh Rosen, or Josh Allen (11:1) – With the 49ers signing of Jimmy Garoppolo,
teams in the Kirk Cousins sweepstakes, and Cleveland being Cleveland, Denver has a great
chance of having a QB fall their way. Darnold and Rosen will probably be gone if Denver doesn't
move up, but Wyoming's Josh Allen could be available.
5) Brock Osweiller (40:1) – It wouldn't be popular, but if Osweiller plays just well enough to allow
Elway to spend and draft other needs, I could see it. Wouldn't recommend it, but could see it.
6) Lamar Jackson (42:1) – Jackson has tremendous upside and could fall to the Broncos as well, but
is John Elway willing to draft a dual-threat quarterback with a first-round pick considering he just
missed on a dual-threat quarterback with a first-round pick?
7) Eli Manning (45:1) – With the team imploding and the coach about to go, Manning could be next
and available at a discount. Besides, the Broncos would make a ton selling jerseys with
Manning's name on the back…oh, wait.
8) Phillip Rivers (60:1) – With a mediocre record and an aging quarterback coming off a concussion,
the Chargers may be looking to deal. Where else but Denver can you throw two picks a game
and still be an improvement?
9) Andrew Luck (75:1) – Luck's contract makes the deal look impossible, but Irsay and Luck have
had major issues. Maybe two Stanford guys are smart enough to figure it out.
10) Drew Brees (100:1) – Despite being a free agent at the end of the season, it would be hard to
imagine Brees in another uniform. Same with Brett Favre (MN), Joe Montana (KC), Johnny
Unitas (SD), Joe Namath (LA)…
Images via BroncoWire/USAToday, BruinsNation, OrangeCountyRegister, and Sports.yahoo.com