Buffs Beat Nebraska – The Rest is Gravy
In a sea of scarlet, the Colorado Buffaloes renewed their longtime rivalry with the Nebraska Cornhuskers and exited Lincoln with a dramatic 33-28 victory.  Wide receiver Laviska Shenault Jr. continued his heroic play as his touchdown reception with just over a minute left spoiled the coaching debut of local quarterback legend, Scott Frost.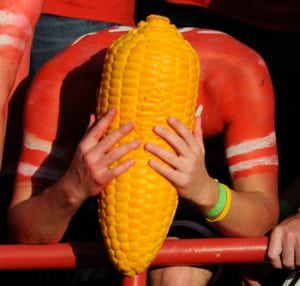 Nebraska dominated the first half with a retro game plan from the early 90's of running the ball and stout defensive line play, but two early turnovers kept the Buffaloes within range trailing only 21-17 at halftime.  The Buffs made a few adjustments in the second half and moved the ball well behind the arm of quarterback Steven Montez (33/50, 351 yards and 3 TDs).
The fourth quarter brought me back to days of yesteryear and some PTSD.
My wife went to college at CU in the early 90's during a time when Pasta Jay's was mostly outside eating, the West End had the only rooftop bar Fin Boulder, and the Buffs won a National Championship behind names like Darian Hagan, Eric Bienemy, Alfred Williams, and Chad Brown.  I arrived a few years later as Kordell Stewart, Rashaan Salaam, and Michael Westbrook dominated the field.  Life was good at Folsom Field until 1996.
Okay, maybe the transition of legendary coach Bill McCartney to Rick Neuheisel was the start of the demise, but in 1996 the Colorado-Nebraska matchup was rescheduled to be played the day after Thanksgiving.
After feasting on turkey and stuffing, the 1996 Buffs went into Lincoln ranked #5 in the country and lost by five.  In 1997, Nebraska fans poured into Folsom Field by the thousands and the Buffs lost again by three. The cranberry sauce tasted good in 1998, but the two-point loss ruined the rest of the weekend.  Gary Barnett took over for Neuheisel the following year and the Buffs lost in overtime.  When Colorado lost to Nebraska again in 2000, I had lost my appetite completely.
Ask a Husker and they will tell you that the Buffaloes aren't even a true rival.  Nebraska leads the overall series 49 to 19 (with two ties), including 18 in a row from 1968 to 1985, and consider Oklahoma, not the Buffs, their true rival. That may have changed after Saturday.
The fourth quarter was filled with back-and-forth drama.  Trailing 28-27, Nebraska would miss a field goal that would have extended the lead, but Colorado's James Stefanou, usually sure-footed, would miss one as well as the Buffs still trailed by one.  Linebacker Nate Landman made play-after-play, including an interception moments later that would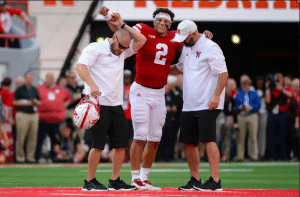 put the Buffs back in field goal range.  When James Stefanou missed again, I felt the taste of pumpkin pie heading up my throat.
With three minutes remaining, Nebraska's starting quarterback was helped off the field with a knee injury and replaced by walk-on Andrew Bunch.  The back-up looked to ice the game on a 3rd down play, but his receiver dropped the ball.  The Buffs have one last shot.
With just over a minute left, out of field goal range, and desperate for a big play on third-and-forever, Nebraska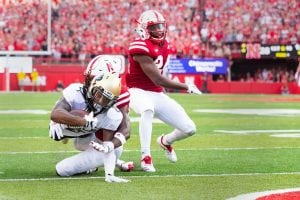 defensive back made a giant mistake as is called for hitting a defenseless receiver on a throw that sailed high over the head of Jay McIntrye.  It's a 15-yard penalty and an automatic first down. Seconds later, Shanault (10 rec./177 yards) outruns a double team to score on a perfect pass from Montez to seal the win.
The Buffs going 2-0 is great.  But beating Nebraska, silencing 75,000 plus in Lincoln, ruining Scott Frost's debut, and winning a game filled with dramatic missed field goals, walk-on QBs, fourth-down stops, fortunate spots, untimely penalties, all while being outrushed 329 yards to 44?  That's just gravy.
Images via bleacherreport.com, studentunionsports.com, huskercorner.com, kokomoperspective.com