Trey Lyles – A Recipe for Success
The Denver Nuggets may have been grasping at straws when they traded for Trey Lyles, the 6'10 forward from the University of Kentucky, but the formula seems pretty sound. Select a one-and-done Freshman from Kentucky with a top-15 pick, and just wait for greatness. Lyles numbers were rather pedestrian last year as he averaged 6.2 points and 3.3 rebounds per game, but unless he's an outlier, good things are coming.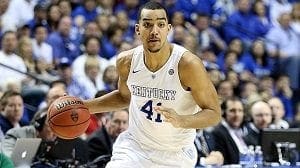 1) Since 2010, there have been 14 one-and-done Kentucky Freshman taken in the top-15 picks of the NBA draft. Those include names like John Wall, Devin Booker, Michael Kidd-Gilchrist, and Trey Lyles.
2) At 6'10, Lyles is one of the tallest one-and-done Kentucky players. The other 6'10 plus players off this list include DeMarcus Cousins, Anthony Davis, and Karl Anthony-Towns. Not bad company.
3) In 2015, Lyles unselfishly played decoy in the NCAA Championship game allowing Booker, Anthony-Towns, Willie Cauley-Stein, Tyler Ulis, and the other future NBA players from Kentucky the space and match-ups necessary to cut down the nets.
4) Devin Booker once scored 70 points in an NBA game. Lyles was chosen one pick ahead of him, so in theory, a 71-point game could still be in him.
5) Not including Lyles, incoming rookies De'Aaron Fox, Malik Monk, or Bam Adebayo, this list of players averaged almost 18 points per game last season in the NBA. Either Utah was unaware of this statistic, or Lyles is obviously a late bloomer.
6) The entire list is filled with McDonald's High School All-Americans, 5-star recruits, and ESPN top-10 high school players. Lyles was all three of those.
7) In the 2016 NBA Rising Stars game, Lyles and Andrew Wiggins combined to score 32 points for the World Team. Wiggins scored thirty that night, but still.
8) Alphabetically, if you group Lyles in with Malik Monk and Jamal Murray, he looks better.
9) Lyles made the playoffs last year with the Utah Jazz. Davis, Cousins, Anthony-Towns, Julius Randle, and others on this list did not. Maybe he's more focused on wins than stats.
10) Anthony Davis makes $22 million/yr., Boogie makes $17 million, and even lesser-known Brandon Knight makes $13 Million. For a Kentucky one-and-done, Lyles is a bargain.
As Golden State pointed out in the playoffs, there's not a lot to do in Utah. Maybe Lyles will find happiness and embrace the altitude and hemp festivals here in Colorado, raise his game to match the others on the list, and while Denver searches for that golden nugget, they just may discover a diamond in the rough.
Image via CBC.ca