March (And April) Madness
The term March Madness was practically an understatement for this year's NCAA Championships. Gonzaga couldn't make it past the Sweet Sixteen, North Carolina had an epic battle against Duke, and Saint Peter's knocked off Kentucky, Murray State, and Purdue.
The NFL gave us its own version of March Madness with Tyreek Hill joining the Dolphins, Davante Adams going to Vegas, and Russell Wilson heading to the Broncos.
Baseball joined in on the March Madness by ending its lockout, implementing the DH in the National League, and starting a Free Agent frenzy.
The hope was that March Madness would turn into Ambien April, and sports fans could rest a bit.
But April has already given us the Jayhawks over the Tarheels, and the Gamecocks over the Huskies. And the Masters, NFL Draft, and NBA Playoffs are still to come.
• The NCAA Tournament was a little confusing. I prayed for Saint Peter's although I'm not religious. I cheered for Coach K but still hate Christian Laettner. And if North Carolina is a true Cinderella, my wife is a natural blond.
• Apparently, after early exits from three number one seeds, Miami making the Elite Eight, and the magical run of Saint Peter's, nobody was left with a perfect bracket. Ironic considering that the Final Four consisted of Duke, North Carolina, Villanova, and Kansas….like most years.
• The Super Senior (Players with a 5th year of eligibility due to COVID/NCAA rules) had a lot to do with the outcome of this year's Big Dance. Collin Gillespie of Villanova, Brady Manek of North Carolina, and Remy Martin of Kansas were all huge contributors to their team's success. One person that is not staying with his team for a fifth year is Shaheen Holloway. Holloway, the former coach of the Saint Peter's Peacocks, signed a six-year deal with Seton Hall worth millions just days after his team's final loss.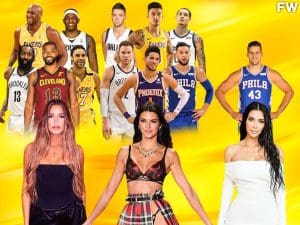 • The Los Angeles Lakers should have watched the NCAA tournament in preparation for the NBA Lottery after failing to make the playoffs despite the trio of Lebron James, Anthony Davis, and Russell Westbrook. The Lakers had a plethora of issues, but I'm starting to wonder if Westbrook, or James Harden for that matter, are capable of ever winning a title. Westbrook has played with Harden, Kevin Durant, Bradley Beal, Anthony Davis, and Lebron James. While Harden has played with Westbrook, Kevin Durant, Chris Paul, Kyrie Irving, and Joel Embiid. And neither have a ring. Not sure if it's a Kardashian-Curse type of thing, or a hold-the-ball-too-long and don't-play-defense type of thing.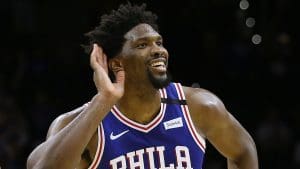 • Speaking of Joel Embiid. I'm not sure the best way to get votes for the MVP award is to whine about not getting votes for MVP. Just saying.
• I'm not sure if Nikola Jokic is going to win consecutive MVP awards, but I do know that he will have to win it without Jamal Murray or Michael Porter Jr. this season, and throughout the playoffs. Ja Morant and Steph Curry could return for the playoffs, but the temptation of bringing back Murray, MPJ, Zion Williamson, Ben Simmons, Kawhi Leonard or any other player that has a hundred-million-dollar contract and hasn't played all season just doesn't happen in the NBA.
• One injured athlete that might come back this week is Tiger Woods. I get that watching Tiger drink orange juice, fill up his rental car, and hit practice balls off the range is a bit much in anticipation of whether or not he will compete in his 24th Masters tournament. But like most, I plan on watching up to four days of golf if he's in, and just the last three holes if he's not.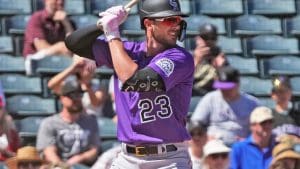 • With baseball upon us, I can't help but think of the Colorado Rockies slogan of Trust the Process. I assume the process is to bring in one face of the franchise, keep the beer cold, and pencil in 90 losses. Larry Walker is in the Hall of Fame, Todd Helton averaged .316 in his career, and Nolan Arenado was good for 35 HRs, 113 RBIs, and 9 Gold Gloves. Kris Bryant comes to us with a .278 career average and no Gold Gloves. Watering down our beer is bad enough.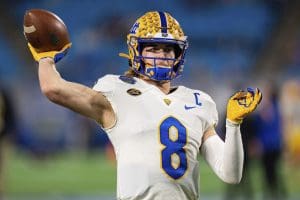 • I still can't believe that former Colorado Rockies draft pick, Russell Wilson, is now a Denver Bronco! The best part about the trade is that Denver doesn't have to contemplate moving up in the draft for a young quarterback like Kenny Pickett. There is offense, defense, and the Pickett fence. White, safe, stationary, and about as exciting as watching paint dry.
Images via nba.com, fadeawayworld.com, wruf.com, skysports.com, cbssports.com, nj.com