The Nuggets Catch a Break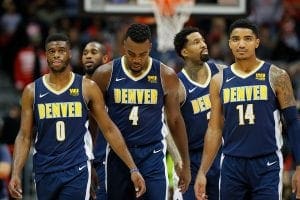 Last Thursday, the Denver Nuggets may have caught a break against Oklahoma City when officials missed a traveling violation on an out-of-bounds play, leading directly to a Gary Harris game-winning shot at the buzzer.  The dramatic win and solid first-half-of-the-season play has the Nuggets sitting at 27-25 and positioned in the eighth and final playoff spot in the Western Conference.  Failing to call traveling in this league is hardly newsworthy, but as the Nuggets fight for a playoff birth against teams like the Jazz, Pelicans, and Clippers, the breaks just keep on coming.
It's hard to think about Gordon Hayward without visualizing that horrific injury he sustained in the season opener in his first game as a Boston Celtic. Sketched in our minds are the broken tibia and dislocated ankle that sidelined him indefinitely.  But the true break was Hayward leaving Utah and leaving the Jazz void of talent tosurpass the Nuggets and take one of the few realistic playoff spots.  Rodney Hood, Rudy Gobert, and a handful of other players have failed to stay healthy all season, and at 22-28, challenging for a playoff spot will be tough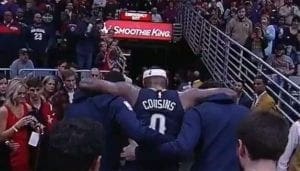 Technically it wasn't a break, but when DeMarcus Cousins ruptured his Achilles tendon last week the New Orleans Pelicans lost their All-Star for the remainder of the year. With Anthony Davis and the newly acquired Nikola Mirotic still on the roster the playoffs are still possible but holding their slim one game lead over theNuggets seems like a reach.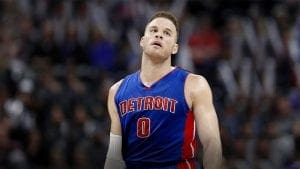 The Los Angeles Clippers continued to help Denver's cause by trading superstar Blake Griffin to the Detroit Pistons. Griffin, known for monster dunks and breaking his own hand while punching an equipment manager last year, is the latest Clipper to be dealt in what looks to be a rebuilding situation. With Chris Paul gone and Griffin in Detroit, rumors of DeAndre Jordan and Lou Williams exiting soon are heating up. At 25-25, theClippers are hanging on as the current 9th seed, but it doesn't look good.
Denver broke the bank whe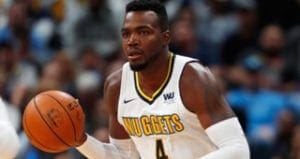 n they gave All-Star forward Paul Millsap a 3yr/$90 million contract during the off-season. But Millsap hasn't played since November after suffering a left wrist ligament injury (at least it wasn't broken). Millsap's return to the lineup sometime after the All-Star break will add tremendous depth and leadership as the Nuggets try to hold on for a playoff spot.
Playing in the Western Conference is hardly a break as Golden State, Houston, San Antonio, Minnesota, and Oklahoma City are safely in the playoffs and the Nuggets tough schedule down the stretch and road woes (7-18) are problematic.  But with Nikola Jokic playing like an All-Star, and the improved play of Jamal Murray and Gary Harris, the Nuggets just may be going for broke in the first round of this year's playoffs.
Images via SBNation, LarryBrownSports, Cleveland.com, ClutchPoints, RealGM