Why Do We Still Hate the Raiders?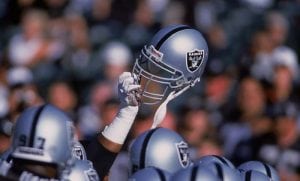 There are three unwritten laws that we live by in Colorado.  Avoid I-70 during peak ski weekends, don't turn off your sprinkler system just because it snows a little early, and most importantly, always hate the Raiders. The rivalry goes back years, but the epicenter stems from the late seventies when the Oakland matched Kenny Stabler, Cliff Branch, and Fred Biletnikoff against Denver's Orange Crush defense of Randy Gradishar, Tom Jackson, and Billy Thompson. The games were violent, nasty, physical matchups that often ended with blood on the field, and fights in the stands.  But as the years go by, the question needs to be asked. Why do we still hate the Raiders?
The Raiders are bullies – Historically, it is true that the Raiders have always prided themselves on physicality and cheap shots that challenge football etiquette. Unnecessary roughness penalties are commonplace as the franchise is always in the top ten for violations and led the league in 2016, 2011, and 2010. But today's Raiders are more like that old middle school bully from our youth. We've moved on, and he's not so scary as he still lives with his mom and spends nights in the basement playing video games.
They fired Coach Shanahan – The Raiders did fire the legendary Bronco Coach back in 1989 after only 20 games, but the Raiders fire all their coaches. They have had 14 coaches since Shanahan including Lane Kiffin, Hue Jackson, Tony Sparano, and Dennis Allen.  Shanahan went on to win two Superbowls.  He should thank them, and we should move on.
The Raiders are sell-outs now that they are moving to Las Vegas – We shouldn't hate them for moving to Vegas, we should feel sorry for them. They currently play on a baseball field in Oakland.  When the franchise moved to Los Angeles because Oakland wouldn't build a stadium for them, they ended up in a rundown coliseum built in the 1940's. Rumor is that their new place will be state-of-the-art, but I wouldn't be surprised if it's a vacant lot behind the Golden Nugget.
They think they are so tough in their black and silver – It's true that perceived toughness on the field spread to popular culture with the help of Ice Cube, Easy-E, NWA, and others. But orange can be tough too, in a pumpkin-spice latte kind-of-way. Okay, this one may be right.
Jon Gruden is so smug – First of all, Jon Gruden is so fired. Refer back to item number two, and then compound that with the fact that he hasn't coached since 2001, his 10yr/$100 million contract is not guaranteed, and once the team moves to Vegas they'll replace him faster than…well, a Raider coach.
Ownership can never stay out of it – First, Al Davis and now, Mark Davis. Owners that tend to influence draft picks and quarterback choices tend to rub fans the wrong way, but Bronco fans should be happy for their input. If it wasn't for ownership the Raiders may have never drafted Todd Marinovich, JaMarcus Russell, or Darrius Heyward-Bey. Three first-round disasters that set the franchise back for years, providing the Broncos an easier path to success, along with some chuckles.
They traded the best defender in football – The Raiders send Khalil Mack to Chicago because they didn't want to pay him, despite paying their new coach a hundred million that hasn't coached in years, but Oakland's disfunction is Denver's gain. Mack had a sack, a forced fumble, a fumble recovery, and an interception in his first game with the bears….and we get to avoid playing him twice.
They're a division rival – Yes, they are in our division, but I'm not sure they're much of a rival anymore. The Raiders have only had one winning season in the last 15 years, Denver has won 33 of the last 47 games, and out of the last 14 Raider coaches, only two have winning records.
It's understandable to hate Raider fans and their wild costumes, Mark Davis and his silly hairpiece, or Chucky and his arrogant smirk. To call the rivalry dead would be an understatement as each victory over Oakland tastes a little sweeter, and each loss hurts a little more. But whether in Oakland, Los Angeles, or Vegas, history is fading.
Images via radiotimes.com, silverandblackpride.com, thefamouspeople.com, chatsports.com, reviewjournal.com