Timeless Melodies: Boulder's Iconic Music Venue Rocking Since 1898
The Colorado Chautauqua, founded in 1898 in Boulder, Colorado, United States, is the only Chautauqua west of the Mississippi River still in continuous operation since the 1920s, during the height of the Chautauqua Movement. It is one of the few Chautauquas still in operation in the United States and was designated a National Historic Landmark in 2006.According to the Colorado Chautauqua Association, it is also the only Chautauqua that operates throughout the year.
The Auditorium was constructed in 53 days by 75 men and draft animals. On Opening Day, July 4, 1898, more than 4,000 people congregated there. People sat on hard benches and endured dust clouds from the sawdust-covered floor while the breeze blew through the open walls. The following year, the walls were enclosed, the benches were gradually replaced with "opera seats," and the floor was covered with concrete. Since then, many visitor conveniences have been added, but the historical significance of this landmark structure has not diminished.
The seats in sections A, AL, AR, B, BL, and BR are exquisite opera seats with wooden backs and padded seat cushioning. Some seats were installed in 1917, while others were installed in the 1940s and 1950s. All have recently been restored. Some guests choose to bring a small back cushion to enhance their comfort.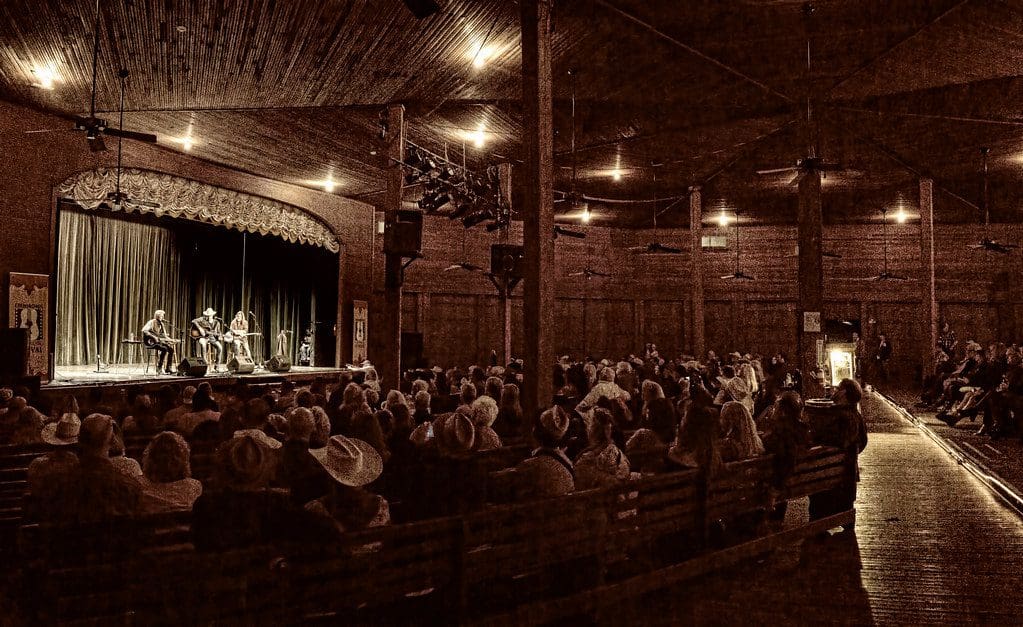 Since its construction in 1898, the Chautauqua Auditorium has played host to innumerable legendary performers and artists, including early speakers William Jennings Bryan and William McKinley as well as Dave Brubeck, Ken Kesey, and Norman Blake. More recently, our stage presented Bela Fleck, Robert Cray, Gipsy Kings, Ali Farka Toure, Ralph Stanley, David Byrne, Indigo Girls, Derek Trucks & Susan Tedeschi, Keb' Mo', Bob Weir, Toots & The Maytals, Joan Baez, Lyle Lovett, Gillian Welch, Gregory Alan Isakov, Umphrey's McGee, Stephen King, B.B. King, and so many more great artists.
Save on gas and parking hassles and ride the free HOP 2 Chautauqua to the Chautauqua Summer Series and Colorado Music Festival concerts.
Available on Auditorium concert nights only, the free transit service runs from approximately 90 minutes prior to showtime, arriving approximately every 15-20 minutes at designated stops. At the conclusion of each concert, buses are staged on the east side of the Auditorium ready to return passengers to their destinations.
To view event details and HOP info, click here.