CU Boulder Seniors Celebrate Porch Graduation Ceremony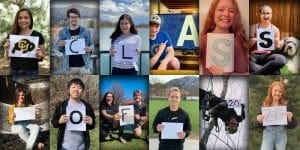 While CU Boulder isn't getting a regular graduation ceremony any time soon (though the University and others across the country are intending on holding a ceremony later in the summer if the decline in coronavirus cases continue), seven CU Boulder seniors instead elected to do a "porchuation" ceremony from the front of their house.
Seven seniors who live together and have been quarantined together held the ceremony from their front porch with live music, a commencement speaker and a champagne toast on a video conference call.
"Porchuation is awesome. I'm really happy that we get to do something special, especially during these hard times," said Michele Wolff. "Porchuation kind of started as this small little idea and then it manifested into this really big project. Where we got a lot of decorations, cake, everyone on board."
More than 20 seniors joined the ceremony to participate in this unusual graduation.
"Porchuation is a really cool opportunity to get to celebrate all of our hard work the past four years," said Paige Schneider. "I'm really excited to see where I end up in the future and where everyone else ends up."