Heifer and the Hen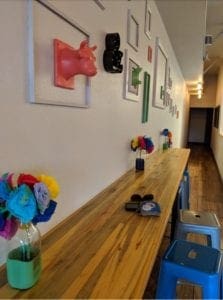 Let's avoid all the parking hassle on Pearl St. and still find great ice cream. Heifer and the Hen on 5290 Arapahoe Ave, in Boulder is the place to find just that. Nestled in view of the mountains and perfectly placed for an after dinner options, sits the creamery. A nice young gentleman asked what we wanted and after serving the ice cream proceeded to tell us all the restaurants he was involved in, he worked next door at the Bru, at the ice cream parlor, and was even opening up his own food truck. He was obviously a food connoisseur with great taste, and a strong appetite for food and the culture that surrounded it. Without even being goated, he discussed the passion he had for the ice cream. He went on to discuss the weird flavors like goat milk, cayenne pepper ice cream, and even the ice cream that once was made with squid ink.
Make no mistake, the Heifer and the Hen beautifully juggles fun, with flavor, and organic quality. I actually tried the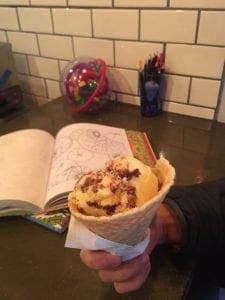 goat milk ice cream as it is supposedly easier on the stomach, it managed to be delicious and rich. Ever since I would down half a quart of ice cream during puberty, I feel I have the qualifications to be a bit of an ice cream snob. Ice cream can taste rich and purposeful, or it can feel like someone dumped a pound of sugar in with a little bit of milk and chemicals and froze it, the Heather and the Hen, was certainly the former.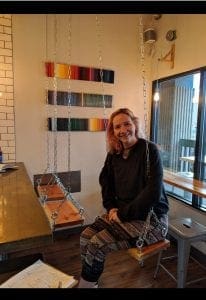 Goat milk ice cream is much like cold goat's milk with a pure sugar taste, it managed to be just sweet enough, I pushed myself through two scoops of it, on taste alone, even after a full course dinner. They have cones, taster spoons, fun little colorful cow heads on the walls, and a rotating menu. My favorite part was the swings though. Along the ice cream bar, they have three swings set up and they are the perfect site for sitting at. They are jovial and sitting in them swinging against the bar, with my feet pushing into the counter, and licking a cone, brought back memories of summer as a child. They even have puzzles and a coloring station, and I am no longer thirteen, but I indulged in the childlike atmosphere.
It is a must visit for a summer date gone well, a trip for kids who love sugar, and even just a calming location with serene views. The ice cream managed to top off all the fun and creams staying in with a pint of Ben and Jerry's. The goat's milk and squid ink awaits you!