The 2022 NFL Mock Draft – Vegas Edition
The Denver Broncos may not be picking anyone in the 2022 NFL Draft until number 64 of the second round, but that doesn't mean it won't be exciting. The event takes place in Las Vegas – the perfect setting for future dreams and crushing disappointment.
I'm expecting food-stained jerseys, alcohol induced jeers, and beer flying everywhere.
And that's just my living room.
A prediction of the first dozen picks of the 2022 NFL Draft – just like it will look like in Vegas. (Minus the lap dance, glitter, and regret.)
1) Jacksonville Jaguars – Aiden Hutchinson / Edge / Michigan – With Hutchinson on the D-Line and Trevor Lawrence under center, the Jags are only 51 players away from respectability.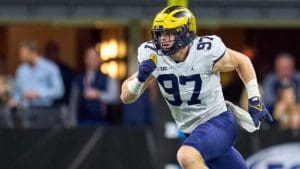 2) Detroit Lions – Travon Walker / DL / Georgia – The Lions could really use a run stopper like Walker, who at 6'5 and 272 LBS runs a 4.5 second 40. Unfortunately, most of the opposing team's rushing yards come in the fourth quarter – when they are up three scores on the Lions and running out the clock.
3) Houston Texans – Ahmad Gardner / CB / Cincinnati – Considering that Deshaun Watson is in Cleveland, Kenny Pickett looks more like a second rounder, and Davis Mills is their best offensive weapon – I'm thinking the Texans should load up on defense.
4) New York Jets – Kayvon Thibodeaux / Edge / Oregon – The pick for the Jets depends on position of need, best player available, and who can you picture forcing their way out of the organization in three years. Thibodeaux checks all the boxes.
5) New York Giants – Ikem Ekwonu / OL / NC State – The Giants need an offensive lineman to protect their only two valuable assets. Saquon Barkley, and whoever they draft next year to play quarterback.
6) Carolina Panthers – Evan Neal / OL / Alabama – Trading for Sam Darnold, drafting Kenny Pickett, or going 5-12 can get you fired. But nobody ever gets heat for taking the top offensive lineman on the Crimson Tide with their first pick.
7) New York Giants – Derek Stingley Jr / CB / LSU – Although the Giants could use another receiver for Daniel Jones to overthrow to.
8) Atlanta Falcons – Garrett Wilson / WR / Ohio State – It doesn't make much sense to draft a receiver when you don't have a quarterback, but if Tyreek Hill is making $30 million, and Davante Adams is making $28 million, Kyle Pitts is a walking hold-out.
9) Seattle Seahawks – Kyle Hamilton / S / Notre Dame – If Pete Carroll has eight picks, Pete Carroll is taking eight defensive players.


10) New York Jets – Drake London / WR / USC – The Jets figure that if they advertise that Drake is going to play at MetLife Stadium this Sunday – fans may show up.
11) Washington Commanders – Charles Cross / OL / Mississippi State – Washington should draft a new version of their sexual harassment policies, or maybe pick up a certified CPA to handle their finances. But instead, look for the team to take an offensive lineman with the 11th overall pick. Carson Wentz is your starter? Terry McLaurin wants a new contract? Daniel Snyder in trouble again? Is it now the Washington Commanders – or the Washington Generals?


12) Minnesota Vikings – Trent McDuffie / CB / Washington – Kirk Cousins has a record of 33-29-1 as the Vikings starting quarterback. In Washington, Cousins had a record of 28-33-1. Combined, Minnesota's starting quarterback has a career record of 61-62-2. You could draft McDuffie from Washington, or McLovin from Superbad, and you are still going to be .500.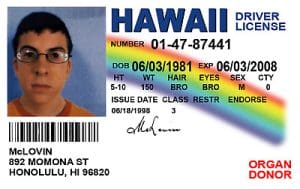 Other Draft Picks
• Look for the Pittsburgh Steelers to take quarterback Malik Willis from Liberty University with the 20th overall pick. Many experts feel that Willis has all the potential but needs a few years to develop before becoming an NFL starter. Of course, the league has been saying that about Mitch Trubisky and Mason Rudolph since 2017.
• In Green Bay, expect Aaron Rodgers to finally get his speedster. Jordan Davis plays for the Georgia Bulldogs, stands at 6'6, and has an awesome 40 time. Did I mention that he's also a DL that weighs 341 LBS? Not quite the wide receiver that Rodgers was hoping for, but how many guys this big run a 4.7?


• And look for Kenny Pickett to land in the perfect spot as the Seattle Seahawks pick him up – with the 72nd pick in round 4.
Images via usatoday.com, espn.com, newer.com, biography.com, nfl.com, ebay.com