The Sour Taste of Super Bowl Appetizers
The matchup was determined almost two weeks ago. The Los Angeles Rams would be facing the Cincinnati Bengals in Super Bowl LVI.
The teams would have ample days to rest, strategize, and attend press conferences. The fans would have more than enough time to buy cheese dip, preview Super Bowl commercials, and upgrade their big screens.
Two weeks can seem like an eternity, but if the Super Bowl is the main course, sports filled us with plenty of hors d'oeuvres while waiting.
Tom Brady won't be playing on Sunday, but he still dominated the news. We had the NBA trade deadline, the NHL All-Star game, and the Winter Olympics.
John Elway was called out, Barry Bonds was left out, and Caitlin Clark balled out.
And it's not like there wasn't any football on as the NFL had the Pro Bowl and the Skill Competition!
Okay. Maybe that doesn't count, but you've only had to wait two weeks. If you think two weeks is bad, try being a qualified black head coach candidate.
The appetizers.
• David Ortiz was elected into baseball's Hall of Fame. But the bigger story was that Barry Bonds and Roger Clemens were not. Slighted by the voters in their last year of eligibility due to a history of steroid use, both players will have to rely on a Veteran Committee to vote them in sometime in the near future.
The argument for accepting both players into the Hall of Fame reasons that steroids were commonly used by all players during their era, so they shouldn't be penalized.

My rebuttal would simply be, if there is no penalty for using steroids during your major league career, Jose Canseco is a Hall of Famer too.
• Tom Brady announced his retirement from the NFL after seven Super Bowl rings and more than twenty years in the league. But many are skeptical whether he will stay retired based on how well he played last season (43 TDs and 5,316 yards) along with his recent "never say never" response.
Look. When a G.O.A.T. announces their retirement, take them at their word. Unless it's Michael Jordan, Muhammad Ali, Brett Favre, Deion Sanders, Randy Moss, Reggie White, George Foreman, Mario Lemieux, Floyd Mayweather, Michael Phelps…
• Former Miami Dolphins head coach, Brian Flores, is suing the NFL, the Dolphins, the New York Giants, and the Denver Broncos – for racist hiring practices and racial discrimination. Flores claims that when interviewing for the vacant Denver Broncos head coaching position, President of Football Operations, John Elway, showed up an hour late to the interview, looked as if he had been drinking all night, and never had any intention of hiring Flores.
In Elway's defense. John always looks like that, and he never hires good coaches.
• Do you realize that the last time the Colorado Avalanche lost a game in regulation was December 16th, 2021. The number one song back then was Adele's Easy on Me, Facebook was trading at $338 a share, and Spider-Man: No Way Home was still a day away from its release date.


• How important are intangibles? The NBA All-Star Game roster was just announced and Golden State's Draymond Green made the squad despite averaging just eight points per game. That's only a basket more a game than Facundo Campazzo.
• Is it me? Or is anyone else having trouble getting engaged in this year's Winter Olympics? It's always interesting when someone whose name I didn't know, gets disqualified for a rule I didn't know, in a sport I didn't know.
• I'm proposing that instead of the Super Bowl party, we start a tradition by having a Pro Bowl party the week before. Because you really need to be drunk to watch that stuff.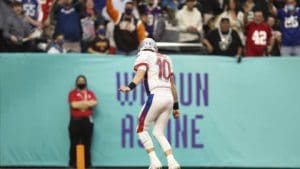 I'm not sure if I was more surprised to see Mac Jones dancing the Griddy during the game, or more surprised to just see Mac Jones during the game. Isn't Jones considered about the 17th best quarterback in football.
Imagine if the NBA selected the 17th best center to start in this year's All-Star game. It would be a coin flip between Ivica Zubac and Jakob Poeltl.
• And finally, controversy occurred after former CSU player, Becky Hammon signed a coaching contract with the Las Vegas Aces for $1 million a year, a WNBA record. WNBA player, Liz Cambage pointed out the inequity as a super-max contract for the best players pays only $228,000 a year.
I'm guessing it's probably not a good time to mention who makes $7.5 million and $8.7 million a year, respectively. That would be Ivica Zubac and Jakob Poeltl.

Images via hungryhappening.com, fortune.com, sanantonioexpressnews.com, nba2kw.com, newenglandpatriots.com