Denver Broncos – That's Not What I Asked For
The lights flickered off the Christmas tree like stars in the dark sky. The table was set with fancy holiday dishes, festive wine glasses, and charcuterie filled with various gourmet cheeses and prosciutto. Filled stockings hung off the fireplace, expensive bourbon poured into those with eggnog, while the scent of Grandma's sugar cookies filled the air.
It was the perfect Christmas.
The matching family pajamas may have been a little over-the-top, as was the hula-hooping Santa Claus that rotated around on the mantle. But nothing was going to embarrass me on this day. Nothing was going to spoil it.
Then the Broncos lost 51-14.
• I probably should have known that something was up around halftime, when I asked Santa for a Christmas Miracle – and a voice from the chimney answered, "Not with that offense!"
• Randy Gregory – Five…year/$70m contract, Four..gettable free-agent signing, Three…tackles in a game is his season high, Two…personal foul calls, One…game suspension….and a partridge in a pear tree.
• I'm not saying that the Broncos quit out there and were thinking about Cabo. But I'm pretty sure I saw an offensive lineman carrying a boogie board on the sidelines.
• I gave my nephew a Russell Wilson autographed jersey for Christmas and he responded – "Oh, I didn't know we were doing White Elephant gifts this year?"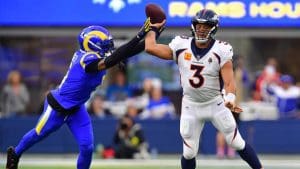 • I was going to make a resolution and give up drinking after the holidays – but the Broncos still have two games left.
• That loss on Christmas Day was so bad that I wished my television had a failed resolution.
• My wife gave me tickets to the January 8th, Chargers vs Broncos game in my stocking. Apparently, there's a shortage of coal.
• And is anything more awkward than families fighting during the holidays? I'm talking to you – Brett Rypien and Dalton Risner.
• Despite the blowout, the Broncos were kind enough to wait until the day after Christmas to fire head coach Nathaniel Hackett. I would have fired him at halftime.
• In retrospect, I would have fired him on Easter. Meaning, last April.
• Kind of feels like we fired him on Groundhog Day. No coach, no quarterback – And here we go again.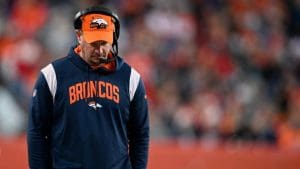 • The Broncos next coach needs to be calculating, cunning, as well as the smartest man in the room. Has anyone reached out to Russell Wilson's agent?
• The Broncos are so desperate for a rebuild that the CU Buffs added a clause to keep Deion Sanders from hanging out near LoDo.
• Does it sound better if we ignore the fights, the score, and Baker Mayfield, and simply say we lost to the defending Super Bowl Champions on Christmas Day? Didn't think so.
• It's not easy playing Pat Mahomes and Justin Herbert twice a year. Maybe Denver should switch divisions or play in a different conference – Like the Mountain West.
• Hey – we may have lost to Tyler Huntley, Zach Wilson, Sam Darnold, and Baker Mayfield. But we own Trace McSorely!
• On the positive – Denver's lone representative at this year's Pro-Bowl game is Ramon Garcia. Garcia doesn't actually play for the Broncos, but he did attend every home game, and only left early twice.
• The biggest loser this season has to be the Walton family and the new ownership. The Walton-Penner group bought the Broncos before the season began for $4.65 billion. If they had waited until the end of the season, they could have paid a buck and some change.
• Russell Wilson, Randy Gregory, and Nathaniel Hackett. Talk about bad investments and lots of losses. Surprised that the stadium name isn't sponsored by Crypto.
• I do think that the Denver Broncos are just a player or two away from turning this whole thing around. Unfortunately, those players are David Copperfield and Mother Teresa.
• Speaking of magic and miracles – Our next coach will have no draft picks, no salary room, a regressing Russell Wilson, ten guys coming off ACL tears, and a locker room that can't stand each other. Hope Sean Payton's family REALLY LOVES snowboarding!!!
• At least Christmas is over! I'd like to think that New Year's will help me forget about the Broncos – but the image of dropped balls just makes me think about Melvin Gordon.
• FIVE! FOUR! THREE! TWO! ONE!!!!! – "Delay of game, offense, five-yard penalty, replay first down."
Whoops – Force of habit. I meant, "HAPPY NEW YEAR EVERYBODY!!!!"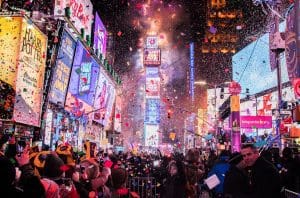 Images via thechristmasmouse.com, nbcsports.com, thecomeback.com, youtube.com, editionhotel.com