An Evening Dining at Leaf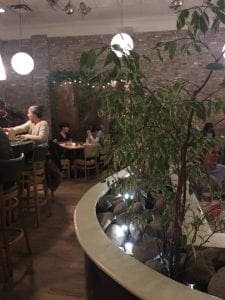 If you love elegance, quaint, and ethical eats than Leaf, Boulder's vegetarian restaurant, is a must! I arrived for a lovely Wednesday evening at 2010 16th St. Walking into the Leaf was nothing like I had expected. It carried a classic and sophisticated ambiance, white walls and large ceilings add to the aura of a warm and timeless feel. I surveyed the room to see plenty of people in their 40s and 50s sipping wine as well as the six-year-old enjoying her personal pizza. It is far from the groovy and granola vibe of most vegetarian restaurants. Warm soft white globe light hung from the ceilings. My eyes then followed the plants that were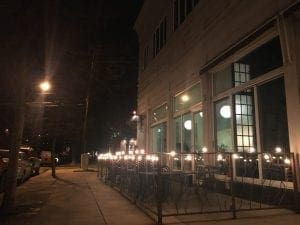 generously placed and hung around the room. Tucked behind a wall of plants hiding, is a hallway that feels like a secret passage. I found little surprises like that throughout the night such as little blue flower saucers to accompany my tea and little pebbles in the sinks. Somehow the place felt whimsical and earthy, yet classic and modern at the same time.
Glancing at the menu, my companions and I all ordered the hot tea. Leaf offers unique flavors of tea with a personal kettle. I am not sure if it was the layout of the menu, or the cold air, but none of us were disappointed with our personal kettles and the fruity warm drinks.
After the tea, we enjoyed avocado tartar as an appetizer. Somehow eating lettuce, mushrooms, and salsa is savory in a way I have never tasted vegetables before. My companions ordered the sweet potato gnocchi, Chinese vegetable mushoo, Udon noodles, and somoza potato cakes. My friend to the right comments, "This gnocchi is so sweet" offering me a bite, but just half of one,
saving the rest for himself.
I am enamored with my dish, the peanut spaghetti squash noodles. The noodles made from spaghetti squash are saturated in a warm peanut sauce with crunchy, lightly salted broccoli. I devoured the dish of mainly vegetables like you would a delicious plate of pasta, yet it is healthy like a salad. When I asked my confidant about his Chinese Vegetable Mu Shoo, he responds, "Well, tofu can be cooked really well, or really badly, this tofu is fantastic." I noticed we each talked far less when the food arrived and savored every bite of our entrees.
I adored all of the items that were vegan and gluten free on the menu. It was refreshing to have a meal where instead of eating around food restrictions, I could be digging in with a myriad of options. This restaurant is a must visit for those with dietary restrictions, and those without them.
We somehow managed to save room for dessert and ordered two servings of the peanut butter cheesecake, one of us who is lactose intolerant, ate cheesecake for the first time in ages. We all take boxes of our meals home to save for later.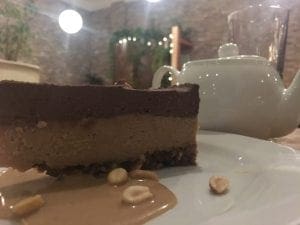 Leaf is a must to visit for the vegan, the gluten free, or those who simply appreciate good food. It offers the opportunity to eat exceptionally healthy without sacrificing taste. We all left after a wonderful evening with plans to return.