The Amazing Adventures of Spencer Dinwiddie
The Amazing Adventures of Spencer Dinwiddie. The title reads like a Jules Verne novel and conjures up images of dark London streets, characters with handle-bar moustaches, Bowler hats, and hot air balloons scurrying throughout European clouds.  But while the name seems classic, the story was almost over before it began.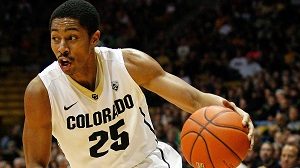 A top-100 recruit from Taft High School in Los Angeles, Spencer Dinwiddie came to the University of Colorado in 2011 with all the makings of a great player.  At 6'6 with outstanding range and a great handle, Dinwiddie was an immediate starter and quickly became the go-to-guy and defensive-stopper on a talented Buffaloes squad.  After leading the team in points, assists, and steals, the Junior point guard was positioned to lead the Buffs deep into the NCAA tournament; but as in all great novels, characters have obstacles to overcome.  In a road game versus Washington, Dinwiddie would tear his ACL and his college career, and dream of playing in the NBA was sidelined.
Projected as a late first-round pick before the injury, Dinwiddie entered the NBA draft immediately after the season ended and despite the lengthy rehab, wound up being picked by the Detroit Pistons in the second round where he signed a 3yr/$2.5 million deal.  But after three years at the end of the bench, Dinwiddie was traded to the Chicago Bulls for little in return.  Two weeks later, Chicago waived him.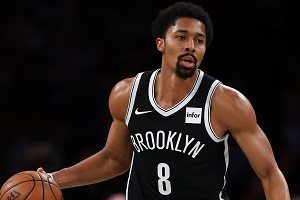 Dinwiddie survived a few more years in the league with Chicago and the Brooklyn Nets playing on non-guaranteed contracts, being waived again, and a little time in the D-League, but his career seemed destined for 10-day contracts, Summer League try-outs, and journeyman status at best.  After an okay 2016-17 season with Brooklyn, Dinwiddie was likely to be waived again.  The Nets were due to pay Dinwiddie $250k if he was still on the roster by October, and with Jeremy Lin (3yr/$38 million) and D'Angelo Russell (4yr/$23 million) both solidified as point guards, Dinwiddie's chances looked grim.
A Roman philosopher once said, "Luck is what happens when preparation meets opportunity." Whether luck or irony, Dinwiddie's story took a dramatic turn as Lin and Russell, the team's two leading scorers, were sidelined indefinitely with knee injuries.  Lin was out for the season with a ruptured tendon and Russell lost to arthroscopic surgery.  Dinwiddie was now the starting point guard.
Prior to the 2017-18 the 24-year old averaged 19 minutes a game for his career, but over the last five games Dinwiddie has posted numbers of 18 points and almost 9 assists while averaging over 30 minutes per game.  With 23 points versus Damian Lillard and Portland, 21 against Steph Curry and the Warriors, and 25 more put on the Utah Jazz, Dinwiddie could be looking at a new contract, a secure spot in the league, and this story may have a happy ending after all.
Images via NetsDaily and RealGM