What Did Your Sports Hero Dress Up As For Halloween?
Besides the sugar-buzz from devouring fun-sized Snicker bars all weekend, the best part was watching famous athletes walking arena halls in their Halloween best.
The Celtics' Grant Williams went full Gotham in a Batman costume. Atlanta's Trae Young dressed as the Black Panther. The Nuggets' Nikola Jokic was appropriately made up as The Joker. And most everyone else in the sports world showed up as some type of character from Stranger Things.
I didn't happen to catch what quarterback Russell Wilson dressed up as pre-game, but I had a few guesses.
• Russell could have dressed up as a beverage cart – He too is overpriced, mini-sized, and bumps into your knees while going up and down the aisle.
• Russell could have gone as John Malkovich's character, Cyrus, from the movie Con Air – who was also trying to get loose on a plane.
• Or Russell could have gone as The Mile High Club – because who else ends up near the airplane restroom with their knees up high?
But you know how the British drive on the other side of road. Russell Wilson went to London and drove the Broncos down the field for the win – keeping Denver on the other side of the loss column for once.
I did see plenty of other players, making plenty of news, wearing some very entertaining attire.
• Tom Brady put on his Pete Davidson costume looking for a little laughter, success, and another chance at dating a supermodel.
• Aaron Rodgers tried to go out for Halloween – but no one was open.
• The Raiders' new head coach Josh McDaniels went as Bernie Madoff – a fraud in his own profession, known for stealing money.
• And the Dolphins' general manager Chris Grier went as the drug Viagra – then hours later acquired a Chubb from the Broncos.
In the NBA –
• Brooklyn's Kyrie Irving dressed up as rapper Travis Scott. As in, he's not quite Kanye, but he's working on it.
• Teammate Ben Simmons went out as an NBA basketball player – and hasn't been seen since.
• Coach Steve Nash dressed as a bag of yellow M&M's. A group full of nuts, waiting to be packaged, and now that Halloween is over – he's long gone.
• New coach Jacque Vaughn was seen dressed as an Advil – because it's his headache now.
• And suspended Boston coach Ime Udoka, the rumored new hire of the Brooklyn Nets, went as a telemarketer – as in, that's a really bad call.
• The Nuggets' Michael Porter Jr. went out as a Fantasy Football running back – you think he's there to win you the division, but after two games he's on the bench injured again.
• The Clippers' Kawhi Leonard just stayed home at gave out candy – missing another 3-game road trip.
• The Lakers' Russell Westbrook went as himself – still shooting 43%, still not winning, and still unwilling to be anything different.
• Lebron James went as an FBI agent – looking for shooters.
• It took the Lakers six tries to finally win their first game this season as Westbrook "rocked the baby," and champagne poured on the head of coach Darvin Ham. They should have bought wine instead of champagne – that way it would have been perfectly aged by the time they got their first victory.
• And Danny Ainge went out dressed as David Blaine. He trades Donovan Mitchell and Rudy Gobert for future draft picks, and the Utah Jazz are still 6-2? – how did he pull off that trick?
In the MLB Playoffs –
• Bryce Harper dressed as a FedEx driver. He's been carrying the team on his back – and continues to deliver.
• While Jose Altuve was seen dressed as a divorce attorney. We know someone is still cheating – just trying to prove it.
In other sports news –
• The Michigan State Spartans went as wrestlers from the WWE – only their suspensions and probable assault charges aren't fake.
• Auburn coach Bryan Harsin went out as a bag full of Halloween candy – expensive and didn't last long.
• Boxer Jake Paul was a phone scam for Halloween – taking advantage of senior citizens.
• And golfer Dustin Johnson dressed up as a ghost for Halloween. Despite making $18 million for winning the season-long individual title, it was on the LIV Tour – so nobody saw him.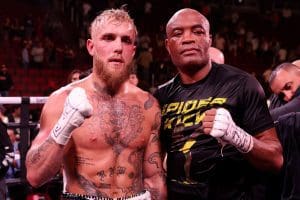 Images via sbnation.com, moviestillsdb.com, todayshow.com, basketballnetwork.com, badlefthook.com