Yoga On The Rocks: Take Your Practice To The Next Level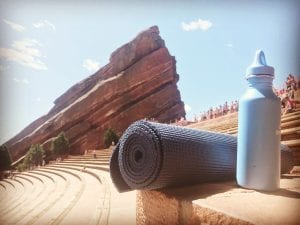 They stand, side by side, towering 300 feet over practitioners below. The iconic red sandstone walls ricocheting sound from the front of the stage where the DJ is playing, as more than 2,000 people raise their hands above their heads before bowing to fold forward.
With the early morning sun rising, slowly warming the amphitheater, students eagerly follow commands from the instructor—the conductor of the experience. "Inhale to upward dog, exhale to downward dog. Step to the front of the mat. Inhale to halfway lift, exhale to fold. Repeat." It's a steady mixture of sweat, breathing, and movement. Liquid poetry, if you will.
I'm talking, of course, about Yoga On The Rocks.
The legendary Red Rocks Amphitheater of Morrison, Colorado is more than just a concert scene. It's also home to a series of outdoor yoga classes taught by local teachers. Take the natural acoustic setting combined with hundreds of dedicated yogis, and you've got the ultimate yoga experience. A studio of grand scale, unlike any other.
Imagine waking up early to unroll your mat amongst a sea of people, moving in unison as music vibrates through your body. Then, after an hour or so of intense activity, sinking into the final resting posture of the class–the promise of a refreshing post-practice coffee not too far off. Wishing to embark on a truly exceptional yoga session? I cannot recommend Yoga On The Rocks enough.
Like everything else Red Rocks-related this event is, hands-down, extremely popular. Established in 2013, Yoga On The Rocks takes center-stage over the course of eight Saturdays in June, July, and August (and this year, September). The 2019 season started off with a bang. Instructors from The River Yoga taught three consecutive weekend classes in June, followed by Kindness Yoga offering two in July, plus an additional pair in early August. This upcoming Saturday, August 17th, lucky ticketholders will be treated to a session taught by the one and only, Adriene Mishler.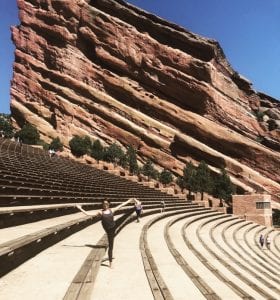 All are welcome, new and seasoned practitioners alike. No matter what level you're at, rest assured that there will be teaching assistants on stage to demonstrate pose variations and modifications to incorporate them into your practice when necessary. Inclusivity is key when it comes to yoga, especially when roughly 2,400 people gather in such a renowned music venue to simultaneously take part in multiple Sun Salutations. And when it comes to Seva–Sanskrit for selfless service–Yoga On The Rocks really brings its A-game. Participating yoga studios designate one dollar from every ticket to go to the charity of its choice.
In case you've already missed the above dates, not to worry. More fun is around the corner at the world-famous amphitheater. In addition to yoga, Red Rocks will, for the first time, be hosting a SnowShape Winter Fitness Series this upcoming fall. These particular classes will be every consecutive Saturday from September 21st to October 12th. Keeping winter athletes in mind, SnowShape is designed for enthusiastic skiers and snowboarders and presented by Fitness in The City, a fitness community located in the Golden Triangle of Denver. This unique series will tune up your workout routine, all in preparation for the winter season ahead.
Summer is almost over, and the last available class of the 2019 Yoga On The Rocks season will take place on September 7th. It will be led by Kady Lafferty from The River Yoga, with musical accompaniment provided by DJ Trizz. For those of you seeking to take your practice to a whole new level, this multisensory experience is one you don't want to miss. Tickets are still available for the final session, so be sure to grab them while you can!