Pearl Street's Past–The Turbulent History of Pearl Street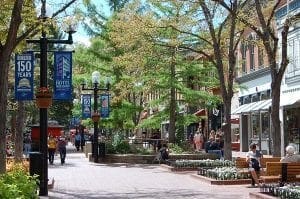 Pearl Street Mall—an iconic Boulder location where you can find all of your fjallraven or Patagonia branded outdoor needs, an espresso at one of the many coffee shops studded throughout the streets, or CU buff paraphernalia at one of the Campus Stores. Pearl Street is the lively epicenter of Boulder, drawing locals and tourists alike to get a taste of authentic Boulder.
Pearl Street was first established in the 1860's and thought to be named after one of the founder's wives. Boulder began as a supply town for goldseekers, and the mall was first constructed due to a need for shops and provisions and a city center. At first, the street was thick with ruts, dirt, flies, and mud, and business owners would build their own wooden sidewalks to attract customers. There were horse-drawn carriages and buggies and ample traffic, and it wasn't until about a century later that the mall was dedicated purely to foot traffic.
In the 1880's there was interest in improving the state of Pearl Street, and the wooden boardwalks were replaced with Flagstones. With the state of transportation shifting as well, Pearl Street became the first paved street in Boulder in 1917, with the very first streetlight erected at Pearl and Broadway.
Pearl Street also endured some hard times—facing the flood in 1894 and a fire in 1907. The flood had a devastating effect on the city, floating away bridges, railroad tracks, and even a few houses. Some people even think that the flood raised the elevation of Pearl Street. The fire, also, was a near catastrophic even
t. It occurred in one of the railroad cars on the train tracks, where a union railroad worker and an accomplice through oil-soaked rags into a caboose which they believed houses non-union workers. Unfortunately, they were unaware that a nearby rail car was carrying dynamite. Boulder's downtown buildings were said to have 'swayed like pendulums' and 5000 glass paned windows shatter simultaneously. Pearl Street sure has its share of eccentric history.
Now, Boulder has a unique plethora of festivals, trends, street performers, and venues, featuring the eccentric and diverse personality of Boulder City itself. Richard Foy, Co-Chair of Communications Art, Inc. summed it up pretty well when he said, "Pearl Street, once Boulder's commercial artery, has become its cultural heart and soul."