Why Boulder Residents Should Visit Nederland
Nederland, located just 20 miles west of Boulder, is a charming and picturesque mountain town that is well worth a visit. There are several reasons why Nederland is a good place to visit from Boulder.
Firstly, Nederland is nestled in the beautiful Rocky Mountains, making it an ideal destination for outdoor enthusiasts. There are numerous hiking and biking trails in the area, including the popular Indian Peaks Wilderness, which offers stunning alpine scenery and challenging trails for experienced hikers.
Secondly, Nederland has a rich history that is well worth exploring. The town was founded in 1874 during the Colorado gold rush, and many of its historic buildings have been preserved and are open to visitors. The Nederland Mining Museum, housed in a former mining company office building, offers a fascinating look at the town's mining history.
One of the town's most beloved spots is the Carousel of Happiness, a hand-carved carousel featuring over 50 whimsical animals that were created by local artist Scott Harrison. The carousel is unique not only for its charming design, but also for its mission to bring joy to all who ride it – Harrison created the attraction as a tribute to his late brother, who struggled with mental illness. In addition to the carousel, visitors to Nederland can also explore the town's charming downtown area, hike in nearby national parks, and enjoy outdoor activities such as skiing and snowshoeing in the winter months.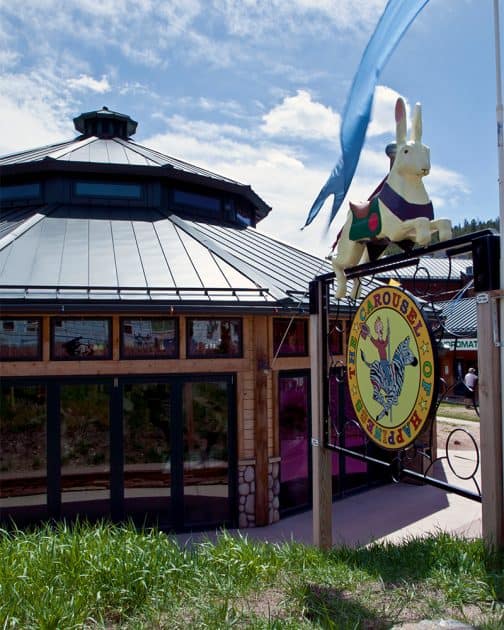 Photo via: The Carousel of Happiness
Finally, Nederland is a great place to relax and unwind. The town has a laid-back, bohemian vibe, and there are plenty of coffee shops, art galleries, and other small businesses to explore. Visitors can also take a scenic drive up to the top of nearby Peak to Peak Highway.
In summary, Nederland is a great place to visit from Boulder for its outdoor recreation opportunities, rich history, quirky attractions, and relaxed atmosphere. Whether you're looking to hike in the mountains, learn about Colorado's mining history, or simply relax and soak in the scenery, Nederland has something for everyone.