Fantasy Football Draft Advice – Do Running Backs Still Rule?
Historically speaking, the running back position has always dominated the first round of any Fantasy Football draft room.
The logic is sound. A quality running back receives more opportunities (overall touches) than any other player besides the quarterback. A quality running back piles up fantasy points by running the football, catching the football, and generally due to goal-line situations, even scoring the football.
And while there are hundreds of quality wide receivers to fill your draft board, there are only a handful of running backs that are so successful in what they do – they avoid sharing too much of the backfield with anyone else.
Christian McCaffrey (Suggested team name – DON'T PULL A CALFFREY) stayed healthy all last season, rushing for 1,139 yards, catching 85 passes for another 741 yards, scoring 14 touchdowns, while averaging more than 20 touches a game.
Austin Ekeler played in 17 games, rushed for 915 yards, caught an incredible 107 passes, and scored 18 touchdowns.
But I know what you are thinking. Every draft board in the country suggests that you take wide receiver Justin Jefferson (TRUST N JEFFERSON) with your first pick, while wide receiver Ja'Marr Chase is rated as the second-best choice in many publications. There is even plenty of discussion about taking tight end Travis Kelce (110 receptions for 1,338 yards and 12 TDs) as he is so much better than everyone else that plays his position, that the gap is too much to resist.
You're also probably thinking that running backs get hurt, demand trades, or even worse…become part of a platoon.
Well – don't worry. It's draft time. And like an offensive lineman rolling out on a screen pass, just follow my lead.
ROUND ONE – The issue with passing on a running back in the first round is that you could end up choosing between J.K. Dobbins and Miles Sanders as your RB1 in round two. That's why I like McCaffrey as the top overall pick, Ekeler second, and only wide receivers Jefferson, Chase, and Cooper Kupp ahead of Saquon Barkley and Bijan Robinson (A LITTLE MAYO LETTUCE AND BIJAN).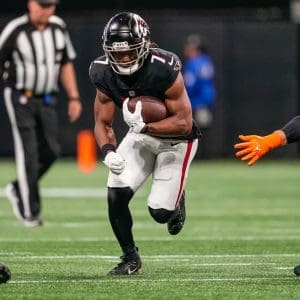 Past pick seven, a wide receiver such as Tyreek Hill, Stefon Diggs, or even Kelce, will allow you to pick up a decent running back in round two like Travis Etienne on most snake drafts. Or reverse that, and take a Tony Pollard, Nick Chubb (NICK GIVES ME A CHUBB), or Derrick Henry and hope that Amon-Ra St. Brown is still sitting there in the WR1 spot for you next round.
ROUND TWO – The basic strategy is that if you went running back, you are now going to take a wide receiver. If you went wide receiver, you are now going to take a running back. And if you took tight end Travis Kelse – all I can do is suggest another team name for your fantasy squad, like PAT'S MA HOMIE.
ROUND THREE – Your third-round selection will set the table for the rest of your draft. If a running back like Jahmyr Gibbs or Travis Etienne is available, you may have to grab them. Or if a wide receiver like Chris Olave is still around, don't even hesitate. But a quality running back is probably the priority.
Feel free to reach if you don't like any names at the RB2 or WR2 position by drafting either Jalen Hurts (JALEN IT HURTS WHEN I PEE) or Lamar Jackson at quarterback. But I'm willing to wait a bit longer and settle for a Dak Prescott if I'm wrong.
ROUND FOUR – There are a lot of quality WR2s available in this year's draft. Keenan Allen, DeAndre Hopkins, and Drake London. Jerry Jeudy would have been a nice pick here if he wasn't injured, and I'm hoping Mike Evans or Courtland Sutton fall to the WR3 position.
If you are still in need of a running back, this is where I would roll the dice on running back Jonathan Taylor (COLT TIL I BOLT).
ROUND FIVE – By round five, Travis Kelce and Mark Andrews are long gone. By round six, T.J. Hockenson, Darren Waller, and George Kittle will be gone as well. I can find a quarterback or a WR3 in the next few rounds, but unless I'm content with Pat Freiermuth at the position, it's time to go get one of these three.
ROUND SIX – A pretty obvious spot for WR3. As I mentioned, Mike Evans gets 1,000 yards every season – even with Baker Mayfield (BAKER MAY BUT PROBABLY WON'T) at quarterback. And Courtland Sutton is the only healthy receiver on the team. Other names include Christian Kirk, Tyler Lockett, or Brandin Cooks.
ROUND SEVEN – It's quarterback time! The safe pick is to go with a Dak Prescott, Kirk Cousins, or Deshaun Watson (DESHAUN WAT-CH YO HANDS). But Daniel Jones with his ability to run is intriguing, and Aaron Rodgers could light them up in New York.
I also really like Tua Tagovailoa. In 2022, Tagovailoa lead the league in passer rating, yards per attempt, and touchdown percentage. The concussion issue(s) most likely make Tua (HEY DOC I SEE TUA YA) a backup for any roster – but I wouldn't be afraid to start him, and then plug in one of the above if his season ends prematurely.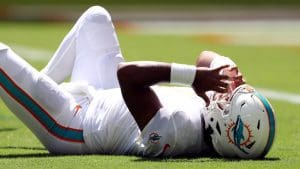 ROUNDS EIGHT, NINE, AND BEYOND – Load up on a few running backs, a bunch of wide receivers, a kicker, a defense, and maybe a backup tight end or quarterback. Afterall, injuries are a part of the game.
Which is why COOPER WEAR YOUR KUPP fell all the way to tenth on my draft board.
Images via Yahoo.sports.com, sportsillustrated.com, Washingtonpost.com, newyorktimes.com, Wikipedia.org.