Is Boulder a Good Place to Live? 12 Things You NEED to Know Before Moving to Boulder, CO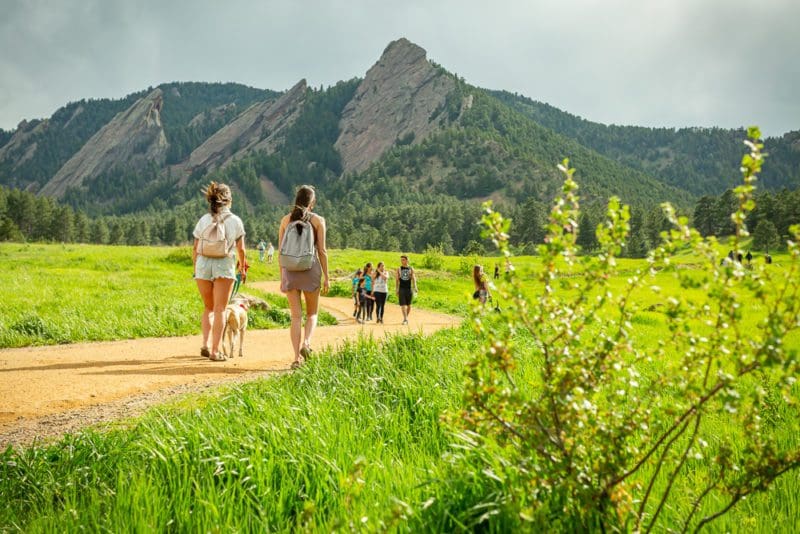 Is Boulder a good place to live? Boulder isn't just a place; it's a chapter in a novel waiting to be read. Every morning, the sun peeks over the mountaintops, casting a golden hue on the city as if mother nature herself had a soft spot for this little enclave of culture and intellect nestled against the wild ruggedness of the Rockies.
It's a place where the coffee shops hum with the musings of intellectuals, and the trails echo with the soft patter of runners greeting the dawn. The juxtaposition of urban charm and untamed wilderness crafts a narrative of life that's as enriching as it is challenging.
Yet, amid the serenity and scholarly discourse lies the pragmatic aspect of life. The cost of this mountain-framed existence can sometimes feel like paying a premium for a front-row seat to nature's grand theater.
Before you move to sunny Boulder, familiarize yourself with the realities of local life. Here are 12 things you need to know before moving to Boulder, CO.
1. Boulder is Expensive
Your wallet might feel a tad lighter in Boulder, CO. Snuggled right beside the Rocky Mountains, this city is where the Great Plains meet an urban charm. However, the median sale price of housing here can send you on a roller-coaster ride; demand often races past supply, given the city's allure. Even the routine stuff like groceries and getting around downtown Boulder fare on the pricier side compared to many other spots in the US.
Yet, the magnetism of Boulder with its outdoor recreation opportunities seems to outweigh the dollar signs for many. The views from Pearl Street, the close-knit Boulder residents, and a life filled with mountain biking and hiking trails speak volumes. But before you start packing those bags, a thorough peek at your bank account is a wise move. You might also want to eye homes in neighboring towns, which could be a bit easier on the pocket.
For many who decide to settle here, the costs are a trade-off for the lifestyle. Boulder is not just any city; it's an adventure that carries its own price tag. So, if moving to Boulder is on your radar, getting those finances in check is a good kick-off. And hey, maybe start a little fund for that mountain bike you'll fancy once you get here. The trails in Rocky Mountain National Park are calling!
2. Loan Options in Boulder, Colorado
Living in Boulder, CO, can sometimes mean your expenses outpace your income, especially with the high cost of housing and the inviting range of outdoor activities. It's not uncommon for folks, whether they're students at CU Boulder or young professionals, to need a loan now and then.
Local banks and credit unions are the usual go-to spots when considering a loan. They know the lay of the land financially speaking and tend to offer a more personal touch. Being part of the Boulder community, they genuinely care about helping folks stay financially afloat.
Now, if you prefer doing things online, there's the option of online loans. One place that stands out is the 1F Cash Advance Store in Boulder. They help people find both online and offline payday loans, even for borrowers with a bad credit history.
There are also payday loan joints around Boulder, offering a quick fix when unexpected bills hit you. But tread lightly with payday loans; the steep interest rates can lead to a debt spiral if you're not careful.
When it comes to getting a loan in Boulder, the mantra is to shop around. Check out the interest rates, get the lowdown on repayment terms, and choose a lender that has a good rep. Staying financially healthy is part of the Boulder lifestyle, fitting nicely with the city's vibe of living well and enjoying life.
3. Big City Perks, Small Town Charm
Living in Boulder, CO, you're never too far from the buzz of Denver. A short drive, and you find yourself in a great city with more job openings, especially in fields not as big back in Boulder. Denver is where you go for those big career fairs or workshops you've been eyeing to boost your skills. And once the day's hustle is done, it's back to the quiet, starlit skies of Boulder.
Denver is also where you'd head for a taste of big-city entertainment. It has a rich cultural vibe with its museums, theaters, and concert halls. And oh, the sports! Whether you're into football or baseball, the city's stadiums are where the action is.
With Denver International Airport so close, catching a flight for a weekend getaway or that important business meeting is way less of a hassle. The airport has more airlines, more routes, and often, better ticket prices.
The drive back to Boulder is your decompression chamber, easing you back into the calm and beautiful Boulder area, away from Denver's hustle and bustle. This blend of vibrant city life and peaceful small-town charm, with a dash of outdoor activities awaiting back home, enriches the living experience in Boulder, making it a unique place to call home. And the great part? You're never too far from the downtown area, whether it's Boulder's Pearl Street or Denver's 16th Street Mall, both offering a mix of world-class restaurants, street performers, and live music that captures the essence of Colorado living.
4. Outdoor Activities that Await You in Boulder, Colorado
Boulder is where the wild meets the city. Tucked at the base of the Rocky Mountains, this place is a dream come true for anyone itching for an active lifestyle in nature.
People in Boulder don't just hike, they live on the trails. There's something for every leg here, whether you're a Sunday stroller or a mountain goat at heart. A stroll down the Boulder Creek Path gives you city vibes with a touch of nature as it winds through the heart of Boulder. Chautauqua Park is where you go to take a good gulp of mountain air with a side of stunning views. And for those with thighs of steel, the Royal Arch Trail is your stairway to heaven. It's a bit rugged, but the scenery under the arch is well worth the sweat.
When the snow decides to grace the grounds, the adventure shifts gear to the slopes. Eldora Mountain Resort is where Boulder folks slide down the white carpet. It's not too far and has slopes that will make both skis and boards happy. And if you fancy a drive, a bunch of other ski resorts are waiting to show you their version of a winter wonderland.
Mountain biking in Boulder is more than just a ride; it's a journey through trails that challenge you one minute and soothe you the next. Betasso Preserve is where you can pump up the adrenaline, while Marshall Mesa is for those sunny days when you want to take it easy, breathe in the wild, and maybe spot a deer or two.
A short drive takes you to Rocky Mountain National Park, the big daddy of outdoor spots. It's got trails that whisper ancient tales, spots for camping under the starlit sky, and places where you can just sit and have a heart-to-heart with natural scenes.
And then there's Boulder Reservoir, for when you want to play in the water or just laze on the shore, soaking up the sun.
Boulder is more than just a city. It's a playground where every day holds the promise of a new adventure. The great outdoors here isn't just a place. It's a way of life.
5. Booming Job Market of Boulder County
A bunch of folks working in Denver choose to live in Boulder, enjoying the close-knit community vibes while having a pretty doable daily drive. This nearby big city job market opens up more job choices for people living in Boulder.
The job scene in Boulder gets a good kick from a bunch of research places funded by federal dollars, the known University of Colorado Boulder, and growing fields like tech and aerospace. This mix of school, research, and business scenes has given the local economy a good boost, making Boulder a welcoming place for those looking for jobs or wanting to start a business. Local startups like Justin's Peanut Butter Cups and Izze Sparkling Juices have sprouted and thrived in this encouraging environment.
And it's not just locals noticing the strong job market in Boulder. In a 2020 list by U.S. News Best Places to Live, Boulder's job market stood tall, coming in third right behind Washington, D.C., and San Jose, California out of 150 metro areas. This recognition shines a light on Boulder's thriving economy and the heaps of job opportunities available, making Boulder a charming place to live and a solid spot for carving out a rewarding career path.
6. Unlimited Education: Studying Opportunities in Boulder, Colorado
Belonging to Boulder County, Boulder has a knack for learning, ranking among the top-educated cities in the United States. The Economic Council's stats show that three out of four adults aged 25 and above in Boulder have bagged at least a bachelor's degree, sailing past the national average of 29%.
Much of this brain gain can be chalked up to the University of Colorado Boulder sitting pretty in the middle of the city. Students flock to CU Boulder for its rich educational offerings. Post-graduation, many decide to stick around, finding the city's lifestyle too good to leave behind.
The robust educational background of Boulder's workforce has attracted a multitude of tech companies, both large and small. For example, Google recognized the city's potential and invested $130 million to open a campus in Boulder in 2018. However, it's not only the tech industry that's thriving; Boulder's educational arena is broad, with various institutions that contribute to a skilled and well-rounded talent pool.
The synergistic relationship between the city's educational bodies and the local job market fosters a conducive environment for both learning and employment. Whether you're pursuing a degree or looking to advance your career in a knowledge-driven community, Boulder offers a rich and supportive setting for your endeavors.
7. Fine Dining and Health-Focused Culture Cuisine in Boulder, CO
Boulder residents enjoy food culture that flourishes alongside its health-focused vibe. Most restaurants offer fresh, local fare. Whether you favor a snug cafe or a classy eatery, there's a spot for you.
The city also feels proud of a lively brewery culture. Numerous breweries offer a range of craft beers. These places often become community gathering spots where locals and traveling bypassers enjoy good drinks and great food.
8. Public Transportation and Commuting in Boulder, CO
The notion of a grueling commute finds itself softened by the city's efficient public transportation system and the embrace of alternative commuting options. The Boulder metro area's population benefits from an efficient public transportation system that mitigates heavy traffic, especially when compared to other cities.
The RTD (Regional Transportation District) bus system casts a wide net over the city and beyond, ensuring residents can reach Denver and other nearby areas with ease. The average commute time lingers around a relatively modest 20 minutes, a reflection of the well-structured transit network and the city's compact design.
Boulder's streets seem to beckon cyclists with their well-marked bike lanes, offering a greener and healthier alternative to vehicular travel. The city's B-Cycle program further fuels this biking culture, making it simple for residents to hop on a bike and wheel through their day. And when the snow descends, the eco-conscious residents might switch their bikes for a pair of skis, embracing a mode of commute that's as delightful as it is unique.
9. Boulder Resident Alert: Be Wary of Bike Thieves!
Boulder is a cyclist's haven with its bike-friendly accolades and extensive cycle lanes. Locals cherish the freedom to bike to work or venture into the Rockies for a longer spin.
Yet, the city has a bike theft predicament. Annually, about 1,000 bikes are reported stolen — a significant number for Boulder's size.
A wise practice is to always lock your bike and aim to keep it indoors at night. CU Boulder students are cautioned against bringing high-value bikes to campus due to a higher risk of theft.
10. A Society Where Wellness Thrives in Boulder Home
The essence of wellness in Boulder is as palpable as the crisp mountain air that envelops the city. It's a place where yoga studios, organic markets, and wellness centers are as much a part of the landscape as the Flatirons that stand sentinel over the city. Here, self-care transcends being a modern-day catchphrase to become a practice woven into the daily lives of its residents. The community here cherishes a lifestyle that melds the vitality of the body with the tranquility of nature, fostering a shared ethos of well-being.
11. Elegance of Seasons in Boulder, Colorado
Nestled against the mountains, Boulder's ever-changing seasons offer both beauty and cautionary tales. Spring's mild temperatures echo Denver, yet the city's proximity to the mountains gives it a cooler, more variable climate. The reawakening parks serve as a reminder that nature is never far away.
Summer offers sunny escapism but also carries hidden threats. Flash floods along Boulder Creek and wildfire smoke from nearby hills can turn idyllic days into indoor retreats. The city's air filters work overtime, safeguarding the community against the smoke's oppressive grasp.
Autumn transforms Boulder into a vibrant canvas of reds and golds, as if preparing its residents for the austerity of winter. Pantries are stocked and emergency kits are updated, as memories of past power outages loom in the collective mind.
Winter settles with a snowy embrace, more intense than Denver due to the mountains' proximity. Late spring occasionally ambushes with icy snow, prompting residents to shake their trees, saving them from the weight's destructive potential.
In Boulder, each season writes a new chapter, telling its tale through shifting landscapes and communal adaptability. Whether it's preparing for flash floods or gearing up for snow storms, Boulder's residents meet the year's ever-changing narrative with resilience.
12. Boulder is Pet-Friendly
Boulder residents adore their dogs, often taking them everywhere. Many offices and restaurants are dog-friendly, creating a welcoming environment. On hiking trails, notably the Flatirons and Chautauqua, you'll find plenty of dogs accompanying their owners. The city's dogs are generally friendly and cheerful, but it's courteous to ask before approaching them.
Relocating to Boulder: Pros and Cons of Boulder, Colorado
Did the amount of information confuse you? Can't decide whether relocating to Boulder is a good idea or not? See for yourself!
Pros of Living in Boulder, Co:
Natural Beauty: Boulder provides various outdoor activities that offer breathtaking scenery.
Career Opportunities: Boulder's job market provides plenty of career options.
Educational Hub: The city boasts a highly educated community.
Efficient Commuting: Boulder excels in public transportation and promotes a strong cycling culture.
Emphasis on Wellness: The city values well-being. It reflects both food-wise and activity-wise.
Pet-Friendly Environment: If you fear leaving your dog at home alone – fear not. Boulder has very friendly pet policies.
Cons of Living in Boulder, Co:
Financial Planning: Moving to Boulder requires careful financial planning due to the high cost of housing.
High Cost of Living: Elevated living costs can strain your finances.
Variable Weather: Boulder's climate can be unpredictable. Flash floods and summer wildfires are not rare guests here.
Intense Winters: Winters are harsher due to the proximity to the mountains, with occasional late spring snow surprises.
Boulder has beautiful nature and sets you up for a healthy lifestyle. It provides great job opportunities as the city isn't far from Denver. However, the higher cost of living and weather-related challenges may become a setback.
Bottom Line
Boulder is a city that seamlessly combines a variety of attractions into a way of life that's both captivating and complex. From the undeniable beauty of its outdoor playgrounds to the hum of intellectual life and a job market that's as inviting as its mountain trails, Boulder has a magnetic pull that's hard to resist.
However, it's also a place that demands a sober reckoning with your finances, be it for housing or the daily luxuries that contribute to the city's elevated cost of living. Ponder about it if relocating to Boulder is an open question for you.
The blend of big city benefits with small-town allure, the vibrant job opportunities, and the culture that celebrates both the body and the mind make Boulder a locale unlike any other.