Painting Paradise: The Best Spots for Artists in Boulder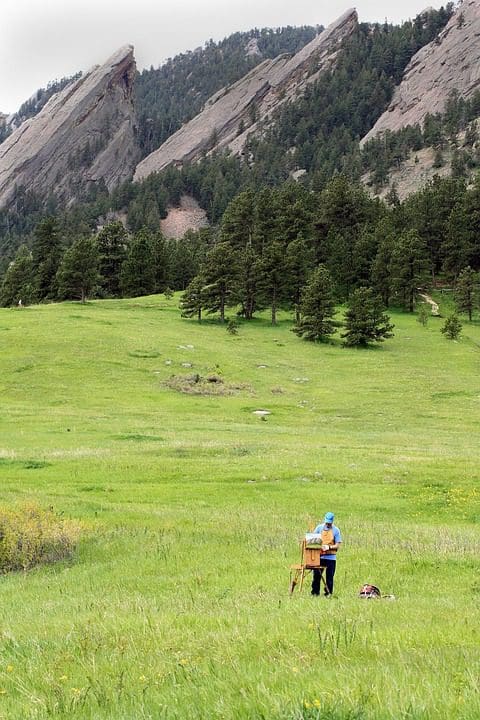 Boulder, Colorado is often considered a great place for artists because of its vibrant arts community, natural beauty, and progressive atmosphere. Here are a few reasons why Boulder is unique and special for artists:
Natural beauty: Boulder is located at the base of the Rocky Mountains, and its stunning scenery provides endless inspiration for artists. The city's location also means that it enjoys over 300 days of sunshine each year, making it an ideal place for outdoor art and activities. The city also has numerous parks and open spaces, as well as a network of trails and bike paths that make it easy to get outdoors and explore.
Vibrant arts scene: Boulder has a thriving arts community, with numerous galleries, studios, and performance spaces. The city also hosts several arts festivals throughout the year, including the Colorado Shakespeare Festival, the Boulder International Film Festival, and the Colorado Music Festival. This strong arts culture provides artists with many opportunities to showcase their work and collaborate with other artists.
Progressive atmosphere: Boulder is known for its progressive and open-minded attitude, which is reflected in the city's many social and political initiatives. The city has a strong focus on sustainability, with a goal to become carbon neutral by 2050, and is also committed to promoting diversity and inclusivity. This progressive culture provides a supportive and welcoming environment for artists of all backgrounds and styles.
University of Colorado: Boulder is home to the University of Colorado, which is a major center of arts and culture in the city. The university has a strong art department, with programs in painting, sculpture, photography, and more. It also hosts many cultural events, performances, and lectures throughout the year, providing artists with many opportunities to learn and grow.
Here are some of the favorite painting spots for artists in Boulder:
Chautauqua Park: This park is located at the base of the Flatirons and offers stunning views of the mountains. The park features hiking trails, picnic areas, and open meadows that provide plenty of painting opportunities.
Boulder Creek Path: The Boulder Creek Path is a 5.5-mile-long paved path that runs alongside Boulder Creek. The path provides access to many beautiful views of the creek, including waterfalls and rapids.
NCAR (National Center for Atmospheric Research): The NCAR campus is located at the foothills of the Rocky Mountains and provides breathtaking views of the surrounding landscape. The campus features several outdoor sculptures and trails that offer plenty of painting opportunities.
Flagstaff Mountain: Flagstaff Mountain is a popular destination for hikers and offers stunning views of the city and the surrounding mountains. The mountain features several hiking trails and picnic areas that are perfect for painting.
Boulder Reservoir: The Boulder Reservoir is a beautiful man-made lake located just outside the city. The reservoir features several beaches and hiking trails that offer beautiful views of the water and the surrounding landscape.
These are just a few of the many painting spots that Boulder has to offer. With its natural beauty and diverse landscape, Boulder provides endless inspiration for artists of all kinds.
Overall, the combination of natural beauty, vibrant arts culture, progressive atmosphere, and educational opportunities makes Boulder, Colorado a unique and special place for artists. It's no wonder that many artists have found inspiration and success in this beautiful and welcoming city.