Boulder's Sentimental Favorite – Dinner at Brasserie Ten Ten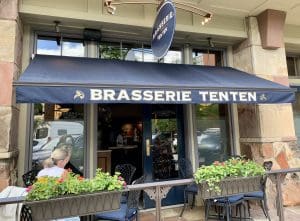 I recently had the pleasure of visiting Brasserie Ten Ten and I must say, it was a fun time. The restaurant went through Covid-19 closures and came back last summer.  I had been there one other time this year, but it felt like old times going back to the bar for happy hour.
We were surprised and happy to find that we could get into the bar without a wait. We sat at the little round tops, still complemented but the beautiful bouquet in that room. We were served by the super-friendly bartender. We were unfamiliar with the Sauvignon Blanc options, so the waiter brought us a tasting. He didn't want to alter our judgment, so didn't tell us which ones we were tasting till after we decided. I think he was trying to help us find the one we would like the best.
We ordered the happy hour green beans, though not traditional tempura style, were crisp and delicious. The light coating gave them a unique twist, and they were served with an aioli-style dipping sauce that was great. The shrimp cocktail was traditional and cooked perfectly it came with a little avocado and cherry tomato salad. We followed this with a burger and fries, and it was cooked medium rare, just like we requested. The shoestring fries were crisp and addictive.
Just like other restaurants in the area, the menu offerings are more limited than in the past, but everything we ordered was very high quality. Each dish we tried was prepared with care and the service was still impeccable. On a previous visit, my guest and I sat in the dining room and had Bouillabaisse and a French Dip sandwich. The service and food were exceptional at that time too.
My visit to Brasserie Ten Ten was relaxing and just what I needed mid-week. We just wanted a quick but relaxing bite and it filled the bill. It was nostalgic to be back at "The Brasserie".  Can't wait to go again. Be sure to make a reservation for the dining room! The bar tables and the bar itself are open seating.
Here's a link to the dinner menu:  https://www.brasserietenten.com/menu/
Check out other happy hour offerings on About Boulder.