Colorado Rockies – Time to Shake Things Up
How fun is baseball these days.  Major League players put on a show in the Home Run Derby last Monday, the All- Star game presented a pitching performance for the ages, and the Colorado Rockies were well represented with All-Stars Nolan Arenado, Trevor Story, Charlie Blackmon, and David Dahl.
And yet, after 99 games the Rockies are one game under .500.
After two years of playoff appearances, Purple Nation is scratching their collective heads over this year's 44-45 start.  Traditionally, it would be easy to blame it on ownership, youthful exuberance, and skeptical trust in the process. But the Monforts shelled out big money, and after two seasons of success and a team built to win, 2019 has been a relative disaster.
One game under .500.  More games lost than won.  Losers of six-in-a-row, worse than the San Diego Padres, only three games better than the last place San Francisco Giants, and an embarrassing 14.5 games behind the Los Angeles Dodgers; the Rockies need to shake things up.
Generally, when teams need a fire lit, managers throw equipment bags, players get traded, and people in the organization lose jobs.  With high expectations and losing results, it's time to light that spark.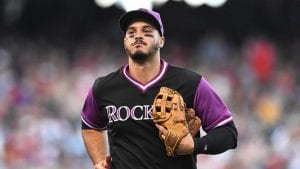 Trade Nolan Arenado It's just so typical of a player to sign a big contract and then get complacent.  Arenado inked a 7-year/$260 million contract during the season and then simply "called it a day."  Nolan got comfortable, the team got comfortable, and the next thing you know they're a game under .500.  Wait.  Arenado is hitting .312 with 20 HRs and 67 RBIs?  So much for complacent.  Bad idea.  Forget I said anything.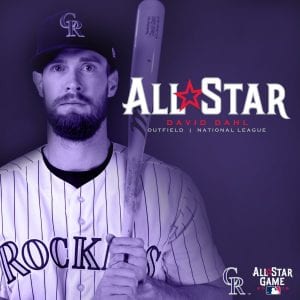 Call up the young guys Nothing motivates like the thought of being replaced by some young prospect from AAA. Time to call up the young guns and see how a little quiet competition brings a loud message to the plateauing veterans.  Wait. The young guys are already here?  Top minor league prospect Brendan Rodgers got called up early, Raimel Tapia has 250 at bats, Ryan McMahon, Peter Lambert, and of course, Dahl and his .308 batting average, 12 HRs, and 51 RBIs are all with the big club.  Nice thought, but there's no one left to bring up.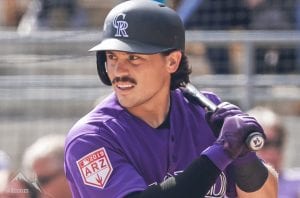 Add another bat to the lineup Time to get some fresh blood and add another hitter to help those four All-Stars.  Sure, Ian Desmond and Daniel Murphy have been on a tear lately.  But that's only six solid hitters.  I guess Tony Wolters and his .285 average aren't bad for a catcher, so make that seven.  Maybe eight with McMahon, nine if German Marquez is in the lineup.  Come to think of it, the Rockies lead the NL in runs per game, doubles, triples, and a bunch of other categories.  Scratch that.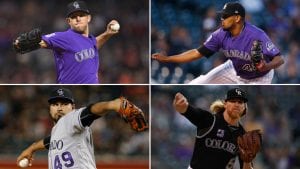 Fire the General Manager Someone needs to be the sacrificial lamb to get this team going in the right direction.  Sure, Jeff Bridich signed Arenado to a long-term deal, found a first baseman who can hit, and resigned Marquez, but did he really think he could begin the season with this starting pitching staff?  Just because the 2017 Rockies did well developing young talent with Jon Gray, Kyle Freeland, Marquez, Antonio Senzatela, and Jeff Hoffman and repeated in 2018 with a starting five of, again, Gray, Freeland, Marquez, Senzatela, and Hoffman, doesn't mean it's a good idea to start 2019 with Gray, Freeland, Marquez, Senzatela, and Hoffman.  Wait, scratch that too.  Sounds perfectly logical.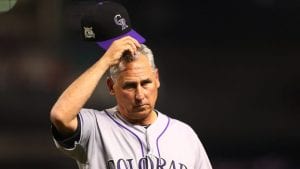 Fire Bud Black 44 wins and 45 losses with this talent?  Look, managers get fired all the time.  Maybe Bud Black just doesn't have what it takes?  Yeah, he won 91 games with this basic roster last year, won 87 games the year before, back-to-back playoffs, and finished 3rd in the Manager of the Year voting in the last two years and won Manager of the Year in 2010.  Sure, he's arguably the most successful Rockies Manager of all time.  Sorry.  Another poor idea.
Like ownership, I see no easy fix and have no quick solutions. But I do know that playing half a season in which you win about the same amount of times as you lose is only acceptable if you're flipping coins, not playing baseball.  Not with this squad.  Time to get going.
Images via newyorktimes.com, denverpost.com, twitter.com, homerundaily.com, cbssports.com.