NFL Week One – Four Snaps, a Crackle, and a Pop
The National Football League kicked off on Thursday, and as usual, it failed to disappoint.
In Kansas City, Travis Kelce was dropped from the lineup, Kadarius Toney dropped everything in sight, and the Detroit Lions dropped the defending Super Bowl Champions.
In Denver, the Broncos are kicking themselves after losing to the Raiders in Sean Payton's coaching debut.
And in New York, Aaron Rodgers will still be playing with the Jets – but that's assuming the team's rehab facility comes with a hot tub.
A look at the wacky first week of the NFL.
• Tony! Toni! Tone! Has done it again. With defensive star Chris Jones holding out, and Travis Kelce out with an injury, it was up to Pat Mahomes and Kadarius Toney to step up. Toney would end up dropping two crucial passes, one leading to an interception for a touchdown, and the other ending the game. Detroit 21 – Kansas City 20.
• If you had Josh Allen or Lamar Jackson in your Fantasy team this week, I'm sorry. But at least your tight end finally outscored Travis Kelce.
• You like big apples? In defeating the New York Giants 40-0, the Dallas Cowboys sacked Daniel Jones 7 times, had 2 INTs, recovered one fumble, and blocked a kick, returning it for a touchdown. How you like them apples!
• You know the Fantasy Football player that doesn't wait until the final pick to select their defense – they picked the Cowboys, scored 38 points with them, and kicked our butt.
• HEY DOC – I SEE TUA YA was the insensitive Fantasy Football team name I suggested after telling you to draft Tua Tagovailoa (466 yards passing and 3 TDs). But as long as Tagovailoa catches a glimpse of blurry Tyreek Hill (11 catches for 215 yard and 2 TDs) – he's good. Miami 36 – Los Angeles Chargers 34.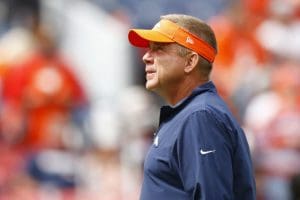 • Coach Payton – Nathaniel Hackett is holding on line one for you. In the Las Vegas Raiders 17-16 victory over the Denver Broncos, newly acquired kicker Will Lutz missed a field goal and a crucial extra point. Payton had earlier released star kicker Brandon McManus, to clear salary space. Apparently, clearing the uprights was less of a priority.
• You know it's going to be a long season when you lose in Sean Payton's coaching debut, to the Raiders, and Josh McDaniels, at home, by one point….and your leading receiver is Adam Trautman.
• Speaking of long seasons. The Arizona Cardinals lost to the Washington Commanders 20-16 in the first game Post Dan Snyder Era. The Cardinals were led by quarterback Joshua Dobbs (3 fumbles, 2 fumbles lost, 132 yards, no TDs), who was acquired late in the year as Kyler Murray recovers from a torn ACL. Looks like this Dobbs decision wasn't too popular either.
• Baker Mayfield was 0-9 in his last nine road starts before his Tampa Bay Buccaneers went into Minnesota and beat the Vikings 20-17. YOU LIKE THAT STAT, KIRK COUSINS?
• Last week, Joe Burrow became the highest paid player in the NFL when he signed a 5yr/$275 million extension with the Cincinnati Bengals. The ROI (return on investment) was a career low 82 yards passing on Sunday and a 24-3 spanking by the Cleveland Browns. Worst deal since Michigan State signed Mel Tucker.
• Burrow wasn't alone in his struggles. Burrow and fellow quarterbacks with new extensions, Jalen Hurts (5yr/$255m), Daniel Jones (4yr/$160m), Lamar Jackson (5yr/$260m), Gino Smith (3year/$105m), and Justin Herbert (5yr/$262m), combined to average only 144 yards passing on Sunday, including 5 fumbles, 3 interceptions, 20 sacks, and just two victories.
• And finally, Monday Night Football ended the week with the much-anticipated debut of Aaron Rodgers and the New York Jets. Not sure what the final score was as most of country turned off the game after Aaron Rodgers tore his Achillies just four snaps into the game.
• A Season Ending Injury just four snaps into the game? Shouldn't that be considered a Season Starting Injury?
• Ironic. Quarterback play always seems to be the Jets Achillies heel. Now they are hoping for an Achillies heal.
• Pat McAfee's favorite guest looks more like a co-host after that game.
• May not be the right time – But is it wrong to say that Green Bay won that trade?
Images via abc7newyork, pinterest, yahoosports, Wikipedia.org