Nuggets Sweep the Lakers
It is often hard to compete with the bright lights of Los Angeles.
Los Angeles has Adele, Denzel, and DiCaprio. We have the guys from South Park. Los Angeles has Snoop Dog, Dr. Dre, and Ice Cube. We have The String Cheese Incident and icy roads. Los Angeles has Beyonce and her $200 million Malibu estate. We have Ciara and her four-bedroom twelve-bathroom home in Cherry Hills.
Los Angeles also has 31 trips to the NBA Finals including 17 NBA Championships. We have none.
Correction. We had none.
The turning point in Game Four occurred around the two-minute mark when Nikola Jokic drained a one-footed, Dirk Nowitzki like, step-back, high-arching three over the outstretched arms of Anthony Davis. Jokic would follow that with the deciding bucket moments later – a driving off-balanced layup versus a late double-team. When Jamal Murray tied up Lebron James on the final play of the game, and Aaron Gordon finished it off with a shot deflection, the game, and series was over. The Denver Nuggets are going to their first ever NBA Finals!
• The Lakers may have a King, but the Nuggets played like Aces, and our Joker was wild!
• Nikola Jokic finished the game with 30 points, 14 rebounds, and 13 assists – right around his playoff average. On a sidenote, League MVP Joel Embiid finished with six Dos Equis, three Grouper, and half a quesadilla after a successful fishing trip in Cancun.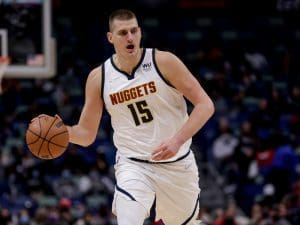 • Nikola Jokic did end up with the Conference Finals MVP, although ABC/ESPN's Mark Jackson apparently voted for actor Michael B. Jordan instead. A move in which he later called, "An honest mistake."
• I do give Mark Jackson credit for his UPS borrowed slogan, "What can Brown do for you?" The answer is – 11.5 points, 4.1 rebounds, 3.4 assists, and a trip to the NBA Finals. That's what Bruce Brown can do for you.
• The other player that has quietly made a difference was Kentavious Caldwell-Pope. KCP hit 44% of his three-point attempts while often defending the Lakers top players. To put that into perspective, before game four, Lebron James was only hitting 23% of his three-point attempts, including just one-out-of-twenty in the fourth quarters. That's worse than Rocky, the Nuggets mascot – and Rocky shoots his threes backwards from halfcourt.
• As great as Jokic was, you could argue that Jamal Murray was just as deserving of the Conference Finals MVP as he averaged 32.5 points a game versus the Lakers, while single-handedly winning two games for the team. Disrespectfully, Murray was referred to as "Bubble Murray," implying that he was playing great like he did during the 2020 bubble in Orlando, but it was an anomaly. Maybe it's an anomaly, or maybe it's a 26-year-old recovering from an ACL injury, either way – Bubble Murray will be celebrating like Bubble Lou Williams if the Nuggets can win four more games.
• The future is bright for the Denver Nuggets as Jokic (28), Murray (27), Gordon (27), KCP (30), and Michael Porter Jr. (24) start on a team that averages 27.3 in age. And if Uncle Jeff Green (36) decides not to sign his Player Option, that team's average age will drop faster than D'Angelo Russell's shooting percentage.
• While the Mile High Nuggets elevated their game to an A, the Lakers played a little more at a C level. Speaking of grades – DLo gets a low D.
• It's ironic that the Nuggets play their home games at Ball Arena, and the boys were ballin'. While the Lakers play their home games at Crypto Arena, exciting and glitzy – until it fizzles out and fails to go any higher.
• It's hard to tell what the Lakers will do to improve their roster for next year – but I'm guessing that sweeping changes are coming.
• I'm not saying that the media coverage was slanted towards the Lakers, but I had to wait for Lebron's retirement discussion, the Lakers potential free agents segment, the Lakers trade possibilities, Kyrie Irving to the Lakers talk, a brief story on Kim Kardashian's shoe collection, Kylie Jenner's courtside makeup tips, and a top ten list of Jack Nicholson's films before they finally cut to Coach Malone at the podium.
Never mind – that isn't Coach Malone, it's Post Malone. Damn you, Los Angeles!
Images via cbsnews, skysports.com, Instagram, sportsillustrated.com, pinterest