The Colorado Rockies Are a Joke – Literally
Name any baseball movie and you will generally find loveable losers that conquer in the end. A drunk coach, a female pitcher, and a team of misfits turn it around in The Bad News Bears. Jake Taylor and his team of castoffs take Cleveland to the playoffs in Major League. And once Roy Hobbs finally gets his shot (no pun intended if you've read the book), the fledgling New York Knights are practically unbeatable in The Natural.
Unfortunately, the Colorado Rockies are not a movie.
The script reads like one with frugal owners, star players leaving for greener pastures, and a roster full of colorful characters.
But after these credits have rolled, all you have left is a team that is four games under .500, 11 games out of first, and sitting in last place.
Sometimes all you can do is sit back and laugh about it.
• The mascot's name is Dinger, which is baseball vernacular for a home run. They should rename him Groundout to Second Base.
• I have a theory that owner Charlie Monfort believes that Bad Baseball That Makes Fans Want to Drink = Increased Revenue.
• Now that Charlie Blackmon has been moved to DH – should his Walk-Up Song still be "Your Love" by the Outfield?
• The Rockies former left side of the infield of Nolan Arenado and Trevor Story have combined for 18 HRs so far this season, while their replacements of Kris Bryant and Jose Iglesias have yet to leave the yard. That's the biggest power outage since our late May snowstorm hit.
• Some lucky fan may want to hold onto the next home run Kris Bryant hits – at this rate it could be a collector's item.
• It does seem a little strange seeing Trevor Story in a Red Sox jersey. Anyone with a big contract, large expectations, and struggling .226 batting average sounds like one of ours.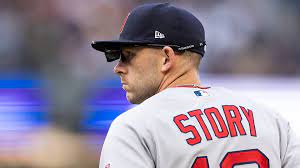 • The face of Rockies franchise is not Kris Bryant or Charlie Blackmon. It's CJ Cron. The 32-year-old journeyman who has spent time with the Angles, Rays, Tigers, and Twins, is hitting .307 with 13 HRs and 37 RBIs. Imagine that – the face of the franchise – and we have no idea what CJ stands for??!!
• And what is with the Rockies signing pitcher Kyle Freeland (1-5, 4.96 ERA) to a five-year/$64 million contract to go along with the five-year/$43 million that German Marquez (1-5, 6.30 ERA) got, and the five-year/$50 million they are paying Antonio Senzatela (2-2, 4.55 ERA). It's one thing to have a below average starting rotation. It's another to lock them all into long term deals to keep us below average for the foreseeable future.
• Thank goodness we have Austin Gomber (2-5, 5.51 ERA) to add a little depth. Without Gomber in the rotation we would be….well…exactly the same. Remember the Blake Street Bombers? I call him the Blake Street Gomber – because that's where most of his pitches end up.
• To be fair, Gomber is the only player in the Nolan Arenado trade that has contributed for the Rockies. And with a career record of 11-14 in Colorado with a 4.81 ERA….it looks like five-year/$50 million is right around the corner.
• Hey – should we sign Garrett Hampson to a five-year deal? He's been below average for years! Hampson did go 2 for 3 the other day to lift his average to .205. And his six RBIs…are two more than Kris Bryant has.


• The irony with the pitching struggles is that Colorado's pitching coach, Darryl Scott, had a career record of one game under .500 with an ERA of 5.85 when he played. Hey Rockies – if this guy is your pitching coach, who is your hitting coach? Manny Mendoza?
• Well – at least the Rockies have young talent we can bring up from AAA like Brendan Rodgers. Wait – What do you mean we brought him up back in 2019??!!


• Hey Bud Black – Your career winning percentage as a manager is slightly below .500. You were slightly below .500 with the Padres, slightly below .500 with the Rockies, and slightly below .500 right now. I'm going to go out on a limb and say that moving Charlie Blackmon from sixth in the batting order to leadoff isn't going to change much.
• The team is struggling more on the road than bald tires in the rain. Striking out more on the road than a salesman at a hotel bar. I'd call it a Rocky Road – but Bud Black is lactose intolerant. To call us Road Kill is gross, yet we can't seem to avoid getting smooshed.
I'll go see the team play the Dodgers, Giants, or Padres play, but with a Rockies organization that has gone 49 games under .500 since making the playoffs back in 2018 – I'm only paying for seats in the Rock Pile.
• Well – I don't know about the Rock Pile – but this team is a pile of something alright.
We could sure use a Jake Taylor or a Roy Hobbs about now. But I'm pretty sure they'd just end up getting traded for a handful of minor leaguers.

Images via espn.com, roxpile.com, theathletic.com, milehighsports, cbsnews.com