Boulder Day Trips: 5 Epic & Unforgettable Adventures
Boulder is a large mountain town approximately 25 miles northwest of Denver. Boulder has one of the highest population densities in the state, with approximately 108,000 people spread across just 26 square miles. The city is located in the Boulder Valley, where the Rocky Mountains meet the Great Plains, and it has some of the most beautiful scenery in the country. The Flatirons are a series of massive flat rock formations just west of the city.
Because of its location right at the point where the plains and the mountains meet, Boulder is in the ideal spot for day trips to both urban and mountainous destinations within a short driving distance.
Boulder Flatirons and Green Mountain
Here are the top day trips from Boulder, Colorado:
1) Nederland, Colorado –
Distance from Boulder: 30 minutes
Nederland, Colorado, is a unique community. Nederland, which is located in the Rocky Mountains west of Boulder and has a long history in mining and music, will serve as the center of the Peak to Peak Community in the future. Nederland is not your typical small town thanks to the distinctive shops, breathtaking natural beauty, hospitable residents, and thriving music scene.
Top Places to go: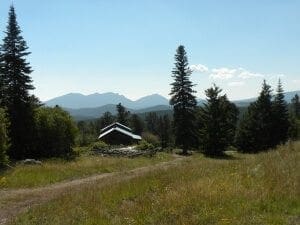 2) Estes Park & Rocky Mountain National Park
Distance from  Boulder: 1 hour
The mountain village of Estes Park, which serves as the entrance to Rocky Mountain National Park, provides all the contemporary conveniences you require along with the mountain charm and welcoming atmosphere you seek.
One of the most popular national parks in the nation is Rocky Mountain National Park. It is understandable why more than three million people visit the park annually given the stunning peaks in every direction, the abundance of wildlife that roams the valleys, and the world's best outdoor adventures.
Top places to go in Estes Park:
Estes Park Aerial Tramway
Estes Park Visitor
Rock Cut Brewing Company
Lake Estes Marina.
Top places to go in Rocky Mountain National Park:
Emerald Lake Trail.
Bear Lake.
Old Fall River Road.
Alberta Falls.
Bear Lake Trailhead.
Alluvial Fan.
Hiker in Rocky Mountain National Park above tree line
3) Frisco, Colorado
Distance from Boulder: 1.5 hours
Frisco is the perfect basecamp for adventure, whether you want to relax for a few days, ski or board endlessly on one of the area's six mountains, or stroll one of Colorado's most charming Main Streets. It is nestled next to Dillon Reservoir and surrounded by public land.
Top Places to go:
Frisco Adventure Park
Frisco Historic Park and Museum
Frisco Bay Marina.
2022. Outer Range Brewing Co.
Frisco/Copper Visitor Information Center. Visitor Centers.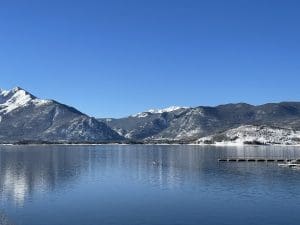 Dillion Reservoir
4) Fort Collins, Colorado –
Distance from Boulder: 1 hour
Colorado State University is located in Fort Collins, a bustling community with many local restaurants, bars, and shops. It's difficult to dispute that people enjoy being outside here all year round given the region's 300 days of sunshine per year, snow-capped mountains, picturesque lakes, and clear-running rivers.
Top places to go:
Annual Flower Trial Garden
 Totally 80's Pizza & Museum.
Fort Collins Museum of Discovery.
2022. Odell Brewing Company.
Spring Canyon Community Park.
5) Golden, Colorado –
Distance from Boulder: 30 Minutes
Golden is a city in Colorado that used to be a gold rush town. It is at the base of the Rocky Mountains. The Clear Creek Trail is a group of paths that run along a creek. It goes by Clear Creek White Water Park, where you can learn how to kayak. The Geology Museum at the Colorado School of Mines has displays about the science of the earth and the history of mining.
Top Places to go:
Golden Gate Canyon State Park.
Colorado School of Mines Geology Museum.
2022. Buffalo Bill Museum and Grave.
Coors Brewery.
Colorado Railroad Museum.
Mother Cabrini Shrine.
Bonus day trip from Boulder. Editor and Staff pick:
6) Red Rocks Amphitheatre
Distance from Boulder: 40 Minutes
The Red Rocks Amphitheatre is a famous outdoor venue that was naturally formed. It is a short trip from Boulder. In addition to its impressive hiking and biking trails, Red Rocks is renowned for its world class concert lineups, natural acoustics, and ambience. In the visitor center, there are interactive educational displays, a performer's hall of fame, and a brief documentary on the region's geologic and musical histories.
Fossils at Red Rocks.
Film on the Rocks.
Yoga on the Rocks.
Exercising on the Amphitheater's Steps.
Red Rocks Visitor Center.