Boulder's Dog of the Day!
Boulders, Colorado, is a fantastic place to have a dog for numerous reasons. Here are the top ones:
Scenic Trails: Boulders offers an array of breathtaking trails, such as Chautauqua Park and Betasso Preserve, where you and your dog can explore stunning natural beauty.
Dog-Friendly Community: The city has a strong dog-loving community with many pet owners, making it easy to find playmates for your furry friend.
Off-Leash Areas: Boulder provides designated off-leash dog parks like Valmont Dog Park, where dogs can run, play, and socialize freely.
Hiking Adventures: The nearby Rocky Mountain trails provide exciting hiking opportunities for both you and your dog, offering exercise and adventure.
Dog-Friendly Cafes: Many cafes and restaurants in Boulder have pet-friendly patios, allowing you to enjoy a meal or coffee with your pup.
Outdoor Activities: From kayaking to paddleboarding, Boulder's outdoor activities are often dog-friendly, ensuring your four-legged friend can join in on the fun.
Open Spaces: Boulder boasts vast open spaces, like Boulder Reservoir and Eldorado Canyon State Park, where your dog can roam and enjoy nature.
Frequent Dog Events: The city hosts various dog-related events and festivals throughout the year, promoting a sense of community among dog owners.
Pet Services: Boulder offers excellent pet services, including grooming, training, and veterinary care, ensuring your dog's health and well-being.
Bike Paths: You can explore the city and its surroundings with your dog on the numerous bike paths, like Boulder Creek Path.
Educational Opportunities: Boulder has educational programs for pet owners, promoting responsible pet ownership and enhancing your dog's behavior.
Dog-Friendly Accommodations: Many hotels and lodges in the area welcome pets, making it convenient for visitors with dogs.
Health-Conscious Community: Boulder's focus on health extends to its pets, with numerous pet stores offering organic and natural pet products.
Year-Round Fun: Whether it's snowshoeing in winter or swimming in the summer, Boulder offers year-round activities for dogs and their owners.
Safety: The city prioritizes pet safety, with leash laws and a commitment to animal welfare.
Dog Parks with Amenities: Boulder's dog parks often feature agility equipment and water stations to keep your dog engaged and hydrated.
Cultural Acceptance: Boulder residents tend to be open and accepting of dogs, making it easy to incorporate your furry companion into daily life.
Proximity to Veterinary Care: With several top-notch veterinary clinics, your dog's health needs are well-covered.
Environmental Consciousness: Boulder's eco-consciousness extends to pet owners, encouraging responsible waste disposal and eco-friendly pet products.
Lifelong Memories: Finally, Boulder's beauty and welcoming atmosphere create lasting memories for both you and your dog, making it an ideal place to call home.
In Boulders, dogs are not just pets; they're cherished members of the community, and the city's amenities and culture reflect that sentiment.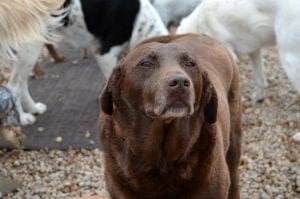 Photo credit: Sherrie Stille