The Worst Season Ever?
Historically speaking, Jack Faulkner's 1963 Denver Broncos are considered the worst squad in franchise history as the team finished the season with a disastrous record of 2-11-1. But that was a little before our time.
Recent memories may have you thinking about Vance Joseph's 2017 Broncos (5-11) that relied on the laughable trio of Trevor Siemian, Brock Osweiller, and Paxton Lynch to steer their sinking ship. Or Vic Fangio's 2020 Broncos (5-11) and the failed Drew Lock experiment.
But I always refer back to the Josh McDaniels team of 2010 as Denver's blueprint of football futility. In his second year as the Broncos head coach, McDaniels drafted quarterback Tim Tebow, embarrassed the organization with Spygate II (the illegal filming of an opponent's practice), and was eventually fired after starting the season 3-9. Denver would limp to the finish line with a record of 4-12.
After Sunday's loss to the Kansas City Chiefs, Nathaniel Hackett, Russell Wilson, and the 2022 Denver Broncos (3-10) have officially put themselves in the running.
• Let me get this straight. Denver hires Nathaniel Hackett because of his relationship with Aaron Rodgers and his reputation as an offensive guru – and we end up with neither?
• After starting off the season with costly mistakes with the game clock, forcing a 64-yard field goal attempt with 20 seconds still left – It's ironic that the Broncos eventually took the play calling duties away from Hackett so he could focus on Time Management.
• In Hackett's defense, there were one or two penalty calls that could have gone either way. Of course, that's out of a league leading 97 of them.
• The offense was so bad under Hackett that when Denver finally did score a touchdown against the Chiefs last weekend – Thunder forgot where he was supposed to go!
• I feel bad for Russell Wilson getting a concussion late in the game on Sunday – but at least he GETS to have memory loss – unlike the rest of us.
• After struggling all season, Wilson was finally getting it going after throwing three touchdown passes on Sunday – Four if you count the one thrown to the other team.
• And Let's Ride has to be the worst timed slogan of all-time – unless it refers to fans leaving early to avoid game traffic.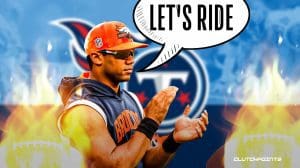 • Nice work, George Paton! You hired a coach that can't coach, traded for a quarterback that no one likes, sent Bradley Chubb to Miami, and all it cost us was $250 million, three players, and most of our future draft picks. Did Bill Belichick send you here?
• Beside the free agent signings of Randy Gregory, the trade for Russell Wilson, and the long-term extensions of Courtland Sutton, Tim Patrick, and KJ Hamler – you nailed it.
• George Paton made our Chubb go away – literally and figuratively.
• The only move worse than cutting Melvin Gordon III – was signing Melvin Gordon III.
• And what do the Broncos have to show for all those moves? One road win – that the team had to fly to another country to get, and two home victories – assuming the one against the Houston Texans (1-11-1) counts.
• You know it's a bad season when the fans are yelling out the play clock, Mike Purcell is yelling at Russell Wilson, and everyone is yelling at Melvin Gordon III.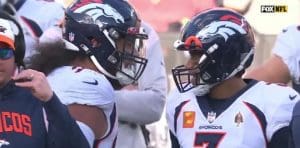 • The team's leading rusher was on the Saint's Practice Squad six weeks ago, Jalen Virgil has the same amount of touchdown receptions as Courtland Sutton, and your most reliable receiver is Chris Hinton.
• The Broncos lost to Zach Wilson and the Jets, twice to the Raiders, and apparently are now banned from playing on Sunday Night, Monday Night, and even Thursday Night after this season's performances.
• Even Denver's punter is struggling as Corliss Waitman is averaging only 46.2 yard per punt (28th), and he plays half his games at altitude. In Waitman's defense – his leg has to be exhausted by now.
• The Broncos have lost games to Malik Willis, Todd Hundley, and Sam Darnold this season. Kind of makes me hope that Kyler Murray is available next week – and not Colt McCoy.
• Do you know what a Patrick Mahomes pass and Bronco fans have in common? Neither of us can bare to look.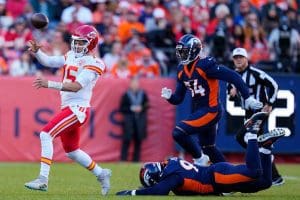 • I've never seen a team so decimated by injuries. Wilson's concussion, Javonte Williams' knee, Courtland Sutton's hamstring, Garett Bolles' leg…and that doesn't even include my sickening stomach, hurt feelings, and broken heart.
• And for everyone that wasn't aware, it was announced that the Broncos were officially eliminated from the NFL playoffs with that loss against the Chiefs on Sunday – Yeah, thanks math major.
Images via facebook.com, Wikipedia.org, clutchpoints.com, yahoo.com, marca.com