Boulder Buffaloes Unite: The Epic Tailgating Tradition at CU Boulder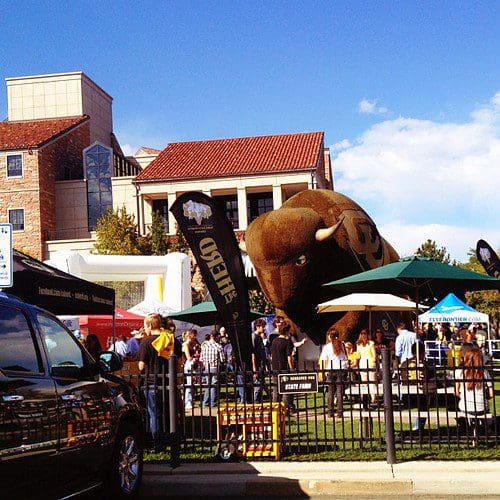 The University of Colorado Boulder is undoubtedly one of the best places in the country to experience the epic tradition of tailgating and watch an exhilarating football game. Nestled against the breathtaking backdrop of the Rocky Mountains, this university's game day experience is second to none.
The iconic Folsom Field, home to the Colorado Buffaloes, is the heart of the action. Its history, dating back to 1924, lends an epic aura to the games held here. The stadium's capacity for over 50,000 fans creates a raucous atmosphere that resonates with the fervor of true football aficionados.
The epic tailgating scene at CU Boulder is centered around Franklin Field, just outside Folsom Stadium. Here, thousands of fans gather hours before kick-off to partake in the pre-game festivities. The scent of grilled brats and burgers fills the air as passionate supporters decked out in Buffaloes gear unite in celebration.
The ultimate tailgating experience unfolds at Ralphie's Corral, sponsored by the university itself. Located near the stadium's south end, this free event opens three hours prior to kick-off. Families enjoy a wealth of activities and savor local cuisine. The CU marching band, spirit squad, and the live buffalo mascot, Ralphie, make electrifying appearances.
For alternative tailgating scenes, CU students gather at University Hill and Pearl Street Mall. An off-campus favorite is the Millennium Harvest House Hotel, conveniently located half a mile from Folsom Field. These spots offer vibrant pre-game festivities, creating an unforgettable game day experience, united by the passion for Buffaloes football.
What truly sets CU Boulder apart is its commitment to sustainability. Tailgaters here take pride in being some of the greenest in the nation. They gather under a sea of recyclable tents, utilize compostable plates and utensils, and diligently recycle, showcasing the university's dedication to environmental consciousness.
The diverse crowd at CU Boulder makes for a rich tapestry of football enthusiasts. Students, alumni, families, and friends all come together in a welcoming and spirited atmosphere. It's an opportunity to connect with fellow Buffaloes, share stories of past games, and create new memories.
Lastly, the stunning natural beauty of Boulder itself adds an epic dimension to the experience. The Flatirons, towering rock formations, loom majestically in the background, making for an awe-inspiring view from the stadium.
In conclusion, the University of Colorado Boulder offers one of the most epic tailgating and football game experiences in the country. The combination of historic Folsom Field, passionate fans, sustainability efforts, fierce rivalries, and the breathtaking backdrop of Boulder's natural beauty all contribute to an unforgettable game day experience. Whether you're a die-hard football fan or simply looking for a remarkable sporting event, CU Boulder should be at the top of your list for an epic game day adventure.