Diving into a World of Wonders: Boulder to Baja Adventure Series on EmpowerGen

A Journey of Co-Creation: Playa Puertecito
Immersed in the mesmerizing turquoise waters, a sense of awe washed over me as a blissful puffer fish found solace in my hands. The gentle strokes from 28-year-old Victor Vargas Junior, one of the stewards of Playa Puertecito, created a connection that words cannot fully capture. If only tears could mix with the surrounding water, I would have wept with overwhelming joy. Victor, the son of my esteemed business partner, is not just a steward but also a part-owner, embodying the intergenerational vision we strive to cultivate at Playa Puertecito. Alongside him, his sister Anneth, a 24-year-old visionary, orchestrated a magnificent fiesta for both Loretanos and now Puertecitanos, exemplifying our commitment to multigenerational collaboration and the vital importance of listening to the voices of the next generation and the local community, who hold the keys to our off-grid paradise in Loreto.
As I sit atop the community palapa, embraced by a gentle breeze, my surroundings become a canvas for inspiration. Along with me are the passionate team living at Playa Puertecito: Kevin, Nidia, and Christian, and a group of PeaceJam volunteers, who generously sponsored this trip to explore the endless possibilities of co-creating a new eco-village and off-grid campus dedicated to play, healing, and the love of nature, and experience how their organization could collaborate locally and on a global scale.
This land, situated on 20 acres near the picturesque fishing community of Loreto, Baja California Sur, holds a profound significance. It is here that a caretaking couple and their fully grown nephew have embraced a fully off-grid lifestyle sin ce December 2022, when our collective vision first broke ground and laid the foundation for an eco-friendly structure. This bold step toward sustainable living has already fostered connections with the mayor and her esteemed officials. I couldn't help but express my admiration for their leadership, proclaiming "Tres Mujeres Fuertes y Amorosas" (Three Strong and Loving Women) guiding this community. This powerful bond has inspired the establishment of a sister city connection, fueling our "Boulder to Baja" adventure of cross-cultural learning and co-creation.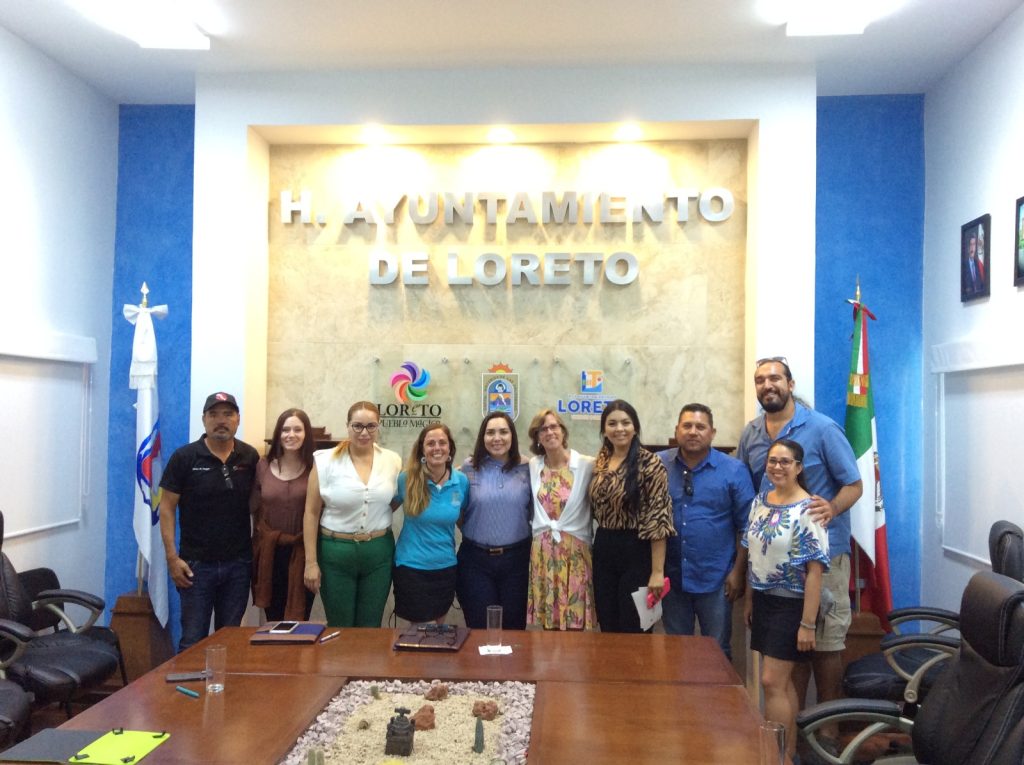 Yet, as I pen this article, I am keenly aware of the limitations of words in capturing the true essence and magnificence of Playa Puertecito. It is a place that defies easy description, a tapestry of beauty woven through the stories of the growing community surrounding this project.
"I just swam through the universe! That was the best night of my life!" exclaimed Jill, a 24-year-old PeaceJam team member, her eyes gleaming with delight. Her midnight snorkeling escapade beneath a star-studded sky unveiled the mesmerizing dance of bioluminescence in the calm waters of the Sea of Cortez.
In the following articles, we will embark on an exploration of the enchanting stories that unfold at Playa Puertecito. Together, we will dive into the depths of this magical world, where dreams take flight and generations thrive. Join us next week as we delve further into the wonders of this extraordinary journey and encounter the extraordinary souls who call Playa Puertecito home. Check out last week's article on AboutBoulder for more about our Boulder to Baja adventure series. 
Stay tuned for the next installment, where we will share a story of indigenous wisdom written by Ulysses Diaz, and more heartwarming encounters, captivating experiences, and the profound insights that Playa Puertecito shared with all members of the team.
Together, let's discover the uncharted realms of this remarkable place and pave the way for a future where dreams become reality.
To read more empowering articles and discover how you can share your voice in our EmpowerGen column, visit our website: Join the 'EmpowerGen' Revolution – Dream Tank (wearedreamtank.org)